Visiting Little Water Cay (Iguana Island)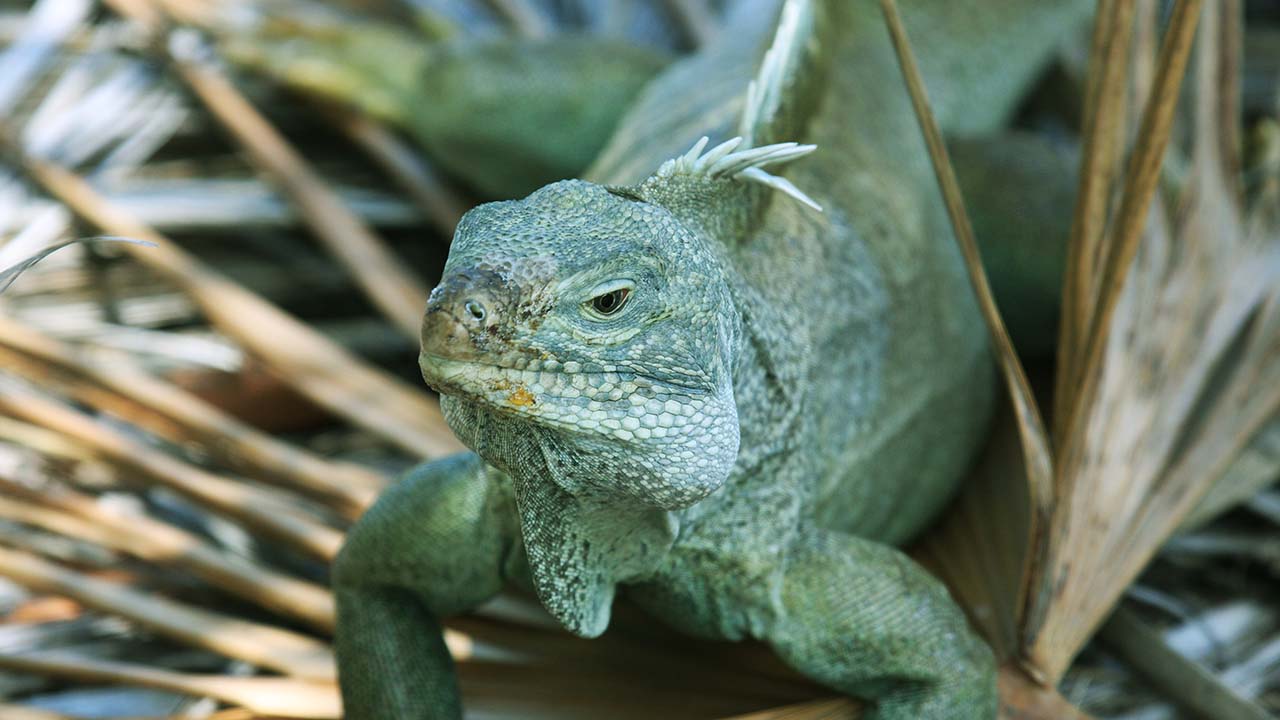 Located only 499 yards away from Providenciales is Little Water Cay. This tiny 116.2-acre island is a protected nature reserve and habitat for thousands of indigenous Turks and Caicos Rock Iguanas (Cyclura carinata). The Turks and Caicos Rock Iguana is the largest non-extinct indigenous land animal in the Turks and Caicos Islands. The iguana once populated all main islands in the country but began declining after human settlement and the introduction of cats, dogs, livestock, and other invasive species. Today, Turks and Caicos Rock Iguanas are considered endangered with an estimated population of only 50,000. If you're looking for an educational eco-tour while visiting Providenciales, then a trip to Little Water Cay (aka Iguana Island) is the perfect day-trip adventure for you and your whole family!
Turks and Caicos Rock Iguana Interesting Facts
Habitat
On Little Water Cay, Mangrove Cay, and other sandy islands, Turks and Caicos Rock Iguanas create their homes by hollowing out burrows into light soil or soft marine limestone. In areas like Chalk Sound Natural Park where the limestone is too hard to burrow, the iguanas live in naturally created sinkholes and small crevices.
Food
The Turks and Caicos Rock Iguana has a diet consisting mainly of plants, flowers, and fruits from many different plants but can also eat smaller lizards and even crabs.
Color & Spines
The color of the Turks and Caicos Rock Iguana varies from green to brownish grey. The lizard can grow to almost 32 inches in length but most often only reaches 16-24 inches. Male lizards are mature at seven years old and have large dorsal spines. A Turks and Caicos Rock iguana can live up to twenty years!
How to Get to Little Water Cay (Iguana Island)
Little Water Cay is less than 1 mile away from the Leeward area of Providenciales. It's easy to rent a kayak and paddle to the island or take a kayaking eco-tour. If you decide to travel on a kayak, you will enter on the southern boardwalk. Proceed with caution when kayaking from Providenciales to Little Water Cay and be aware of currents between the two islands. Many boat tours offer a day trip excursion to the island. If the tour boat enters Iguana Island on the northern side, you will be able to see the island's saltwater wetland ponds. The entire trip averages around 2 to 3 hours round trip.
About The Nature Reserve
Little Water Cay Iguana Nature Reserve is managed by the Turks and Caicos National Trust. The National Trust charges $10.00 per person for a short trail tour, $15.00 per person for an extended trail tour, and $5.00 for entrance to Half Moon Bay. Most tour operators offer a prepaid ticket to the reserve but if you're visiting on your own the reserve only takes cash for payment. The Nature Reserve is open Monday through Sunday from 10:00 am to 3:30 pm and by special appointment. Visit The Turks and Caicos National Trust website for more information about taking a tour of the Iguana Island Nature Reserve.
Iguana Etiquette & Other Important Details
No harassment or feeding of iguanas.
Keep noise to a minimum.
No smoking.
Use the wooden boardwalks to walk through the habitat so that nests and burrows are not disturbed.
No pets are permitted.
Please carry out all garbage. This reduces the risk of rats which are a threat to the iguanas.
Cash only (if you haven't obtained a pre-paid ticket from your tour operator).
No toilets are available.
Stay at Villa del Mar For Your Turks and Caicos Caribbean Island Escape
Villa del Mar is an intimate condominium resort made up of 42 suites across three buildings. The resort surrounds you with lush gardens, two pools, a hot tub, and even a tiki bar. One of the most incredible things about Villa del Mar is the resort's location just steps away from Turks and Caicos' most beautiful beach, Grace Bay Beach. We invite you to come to our incredible Caribbean Island, stay with us at Villa del Mar, and experience all that Turks and Caicos has to offer. See you on Iguana Island!