Enjoying Authentic Island Cuisine In Turks and Caicos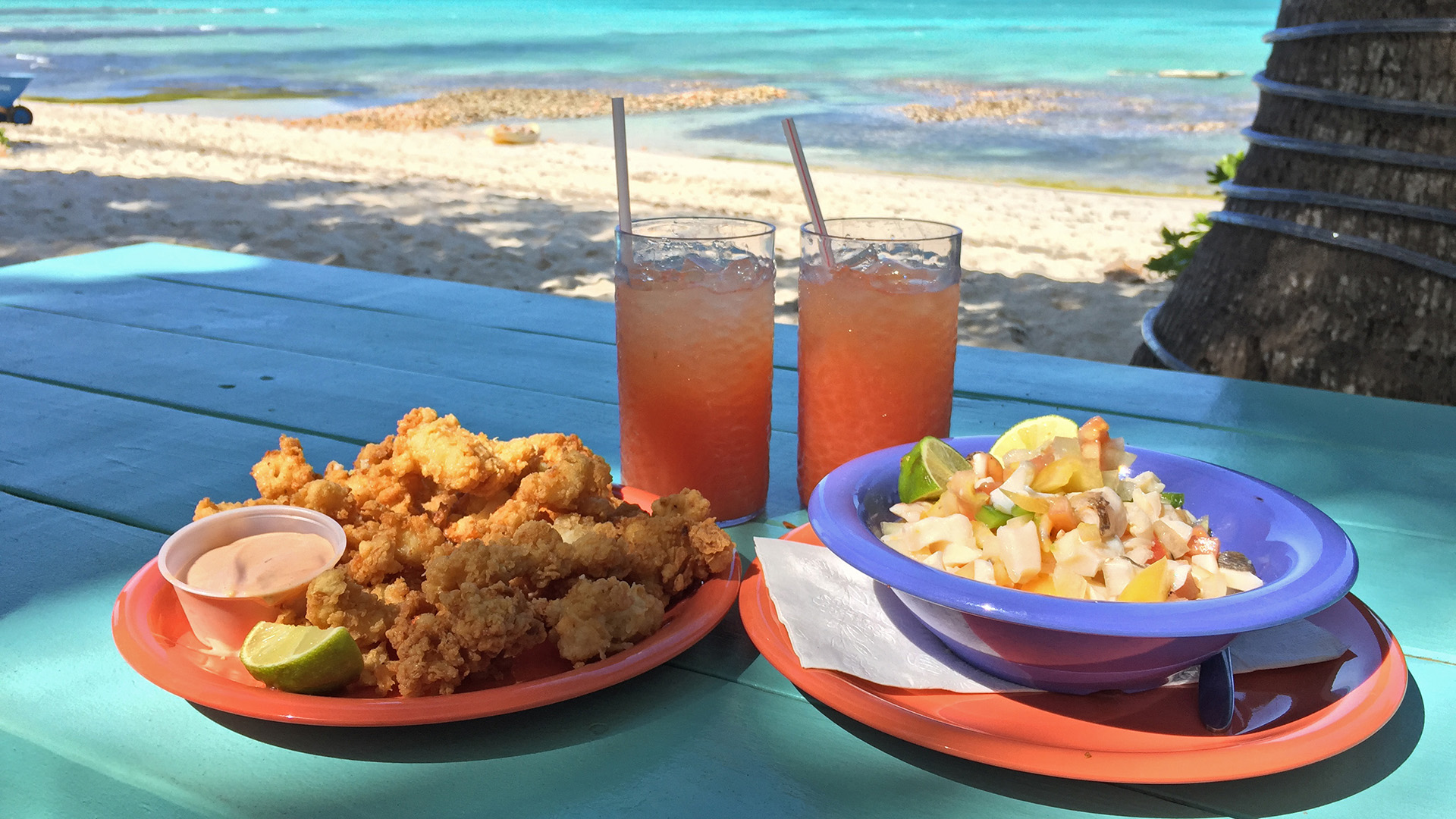 Food is an expression of culture and a celebration of local ingredients. Food brings people together, nourishes, creates memories, and inspires creativity.
As said by Julia Child, "People who love to eat are always the best people."
On your next adventure in Turks and Caicos create lasting memories of your trip to the Caribbean by enjoying local authentic cuisine in Providenciales. In our brief article, we'll mention the history of traditional Turks and Caicos cuisine and where you can enjoy a delicious authentic meal. Bon appétit!
the history of turks and caicos traditional cuisine
The Turks and Caicos Islands are a tropical archipelago nation with a large barrier reef and marine plateau making access to fertile fishing abundant. Local seafood is the center of Island cuisine. Conch, an edible marine snail indigenous to the Islands, is the Turks and Caicos' national symbol and has an important role in the diet of islanders. Diners can find conch fried in conch fritters, eaten raw in a conch "ceviche-style" salad, incorporated into chowders, burgers, and creole.
Lobster, grouper, and snapper are other popular seafood dishes served on the island. Today, many fish recipes are deep-fried, but this is a relatively new cooking technique. In the past, cooking oils were hard to obtain and fish was traditionally cooked by light pan-frying, poaching, boiling, or roasting.
farming on the islands
Farming in the Turks and Caicos Islands has always been difficult due to the lack of fresh water and fertile soil. In the past, drought-tolerant maize was grown and used to make "hominy or grits." Many traditional dishes featured fresh conch or fish served with a side of locally-grown pigeon peas and grits made from hand-ground maize. Islanders also used maize to cook "Johnny Cake" derived from "Journey Cake" which was a sweetened pan-baked cornbread that was eaten along with sun-dried conch on prolonged fishing and trading expeditions.
In addition to maize, islanders grew okra, peas, pigeon peas, peppers, beans, papaya, plantains in small plots across the islands. Giant blue land crabs, sea grapes (an edible grape-like fruit from a coastal plant), and sugar apples (the fruit from the tropical Annona tree) were harvested from the land and used to supplement the island diet. As trade with other countries started to improve, locally grown maize was gradually replaced with imported rice. Today, peas n' rice is the most popular side dish served on the islands.
cultural influence from the bahamas and jamaica
After the collapse of the salt and sisal industries in Turks and Caicos, a large part of the population on the islands migrated to the Bahamas and Jamaica. With the arrival of tourism in the 1980s and 1990s, many emigrants returned home to Turks and Caicos and brought with them cultural influences from the Bahamas and Jamaica. Many of the island's dishes such as jerk chicken, fish, and pork were adopted from Jamaican culture. Conch fritters and conch salad have been influenced by Bahamian culture.
finding authentic cuisine in turks and caicos
Although the cuisine of Turks and Caicos has evolved over the years, you can still find delicious, authentic cuisine that will create lasting memories and inspire you to keep coming back to Turks and Caicos. Here are a few of options in Providenciales for authentic island cuisine:
crackpot kitchen –
Turks And Caicos Islands / Caribbean Cuisines With An International Twist
Website:
https://www.crackpotkitchen.com/
Chef Nik perfected the art of cooking local Caribbean dishes from his father Aulden 'Smokey' Smith who was one of the country's Top Local Cooks and Owner of Smokey's Restaurant, Bar & Grill.
Address: Grace Bay Rd, Grace Bay TKCA 1ZZ, Turks & Caicos Islands (At the Allegro Road Round-a-bout)
Hours:
Tuesday – Sunday
Tuesday – Saturday (Lunch and Dinner)
Sunday (Dinner Only)
Omar's Beach Hut –
good food, good vibes and enough rum to take your stress away!
Webiste:
https://www.facebook.com/omarsbeachhut/
A popular beachfront restaurant, located at Five Cays on Providenciales. One of the top-rated Jamaican and local cuisine places on the island.
Address: Five Cays TKCA 1ZZ, Turks & Caicos Islands
Hours: Monday-Sunday (Lunch & Dinner)
Caribbean Element –
a unique local gem, in the heart of Grace Bay, Providenciales, Turks & Caicos Islands
Website:
https://elementtci.com/
Offering guests fresh local Cuisine, in a modern and inviting ambiance, cooked in the sole open kitchen.
Address: Le Vele Plaza Unit #102, Grace Bay, Providenciales, Turks and Caicos Islands
Hours: Dinner Hours 5:00 pm- 10:00 pm Daily | Except CLOSED on TUESDAYS
stay at villa del mar turks & caicos
Villa del Mar Resort is an intimate condominium resort featuring 42 beautifully appointed suites across three buildings. The resort surrounds you with beautifully maintained gardens, two swimming pools and a hot tub, and even an onsite tiki bar. Villa del Mar is located just steps away from Grace Bay Beach, Turks and Caicos' premiere beach featuring soft white sand and beautiful turquoise water. Come stay with us in paradise and experience the sights, sounds and flavors of our Caribbean Island gem.