Scuba Dive Inside A Thunderdome At "Le Tresor de Pago Pago"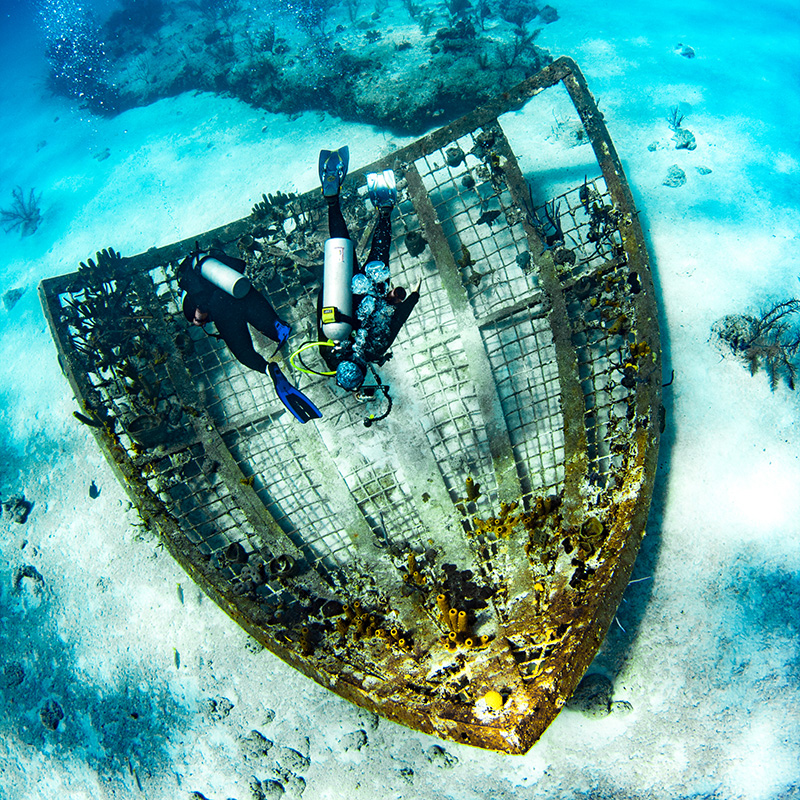 An incredible world under the sea awaits you on your next scuba diving adventure. Are you looking for a unique diving spot? One of Turks and Caicos' most popular scuba diving locations is the site of a former French Underwater Game-show called "Le Tresor de Pago Pago" (The Treasure of Pago Pago).
Le Tresor de Pago Pago was filmed in the early 1990s at Malcolm's Road Beach on the Northwest Point Of Providenciales. To create an exciting set and challenging gameshow, the show's producers constructed an underwater steel "Thunderdome" cage. The diving portion of the game-show required contestants to free-dive into the top of the Thunderdome and gather as many pearls as possible from a metal stove pipe sponge that launched them into the water. If the contestants ran out of air while gathering pearls, they would seek the aid of a mermaid who would provide air from an octopus regulator in exchange for a pearl. Unfortunately, some mermaids wouldn't give contestants enough air, leading to contestants swimming to the surface in a panic for air. The competitors that made it to the surface with their pearls were awarded 250 Francs for every pearl they could capture. The show was canceled soon after airing because contestants suffered medical complications from decompression sickness.
While numerous people were undoubtedly happy to see this silly and very dangerous game-show end many years ago, the Thunderdome makes for a fun place to dive and enjoy the diverse marine life at Northwest National Park. After Hurricane Frances hit the Island in 2004, the dome collapsed into numerous pieces. Today, the steel that makes up the dome has evolved into an artificial reef. The dome now makes an ideal home for spotted eels, shrimp, and many other invertebrates. In addition, divers can see colorful schools of fish, sharks, stingrays, and even the occasional octopus. If you visit this dive location, bring your underwater camera to capture this incredible ruin and the marine life that call it home.
Did you know that Villa del Mar's intimate condo resort is steps away from Grace Bay Beach? Villa del Mar has a section of the beach complete with full bar-to-beach service, loungers, umbrellas, and fresh towels. So stay with us in Grace Bay and make Villa del Mar your home base on your next adventure in Turks and Caicos!