Sail Through Warm Caribbean Waters In Your Own Boat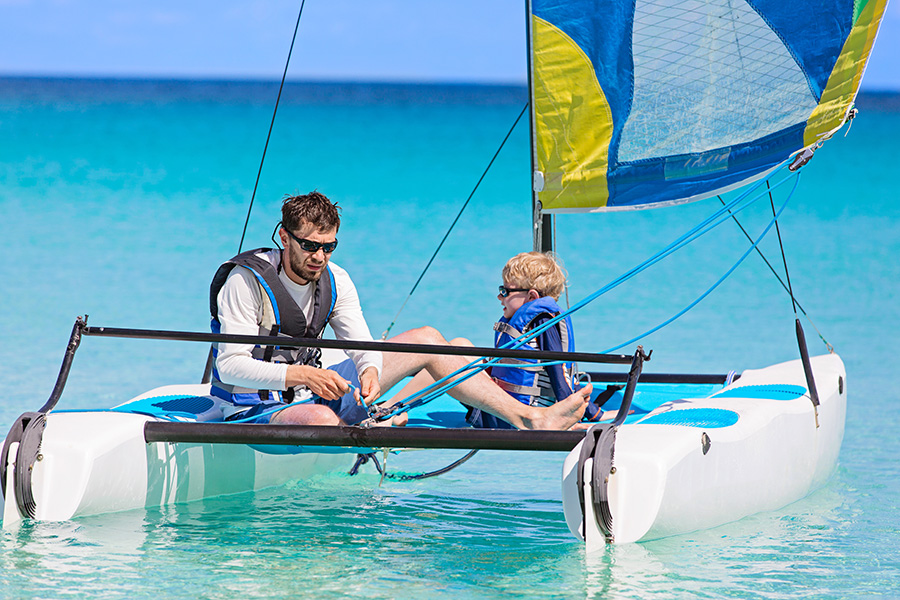 Imagine gliding through the water effortlessly on a beautiful blue day. You'll feel the soft, warm sunshine, experience the salty sea spray, and feel the warm wind on your face. There's truly nothing like taking a Hobie Cat sailing!
What Is A Hobie Cat?
A Hobie Cat is a small catamaran boat with two parallel hulls of equal size. Catamarans are incredibly stable due to their wide beam and are more resistant to tipping and capsizing than monohull boats. You've likely seen a catamaran before. For example, two AC72 wing-sailed catamarans were used for the 34th America's Cup. This particular type of catamaran was able to reach speeds averaging 30 knots! Since 1967, the Hobie Cat Company has been the world's largest manufacturer of small catamarans. One of the best features of this small boat is the lightweight hull that can quickly launch from the beach.
Why Should You Rent A Hobie Cat?
Hobie Cats are easy to learn to sail and are a great way to introduce kids to the joy of sailing. Many resorts offer Hobie Cat sailing lessons, but due to the easy nature of sailing these boats, you can learn how to sail them in about an hour and rent a Hobie Cat without an instructor on board.
Another great reason to rent a Hobie Cat is the stability and extra safety features. Hobie Cats have two sealed hulls making them very stable and not easily tipped.
There is nothing quite like sailing on the open ocean in your little boat! Sailing your Hobie Cat on Grace Bay is particularly spectacular. One of the best things about Turks and Caicos is the warm water which averages 82 to 84 degrees in the summer and 74 to 78 degrees in the winter.
Where To Rent A Hobie Cat
Several local businesses offer either catamaran rentals, catamaran tours, or both. Here's a short list of a few companies:
Turks Aqua Extreme – Grace Bay Beach
Offering Both Hobie Cat Sailing Lessons & Rentals
Website: https://www.turksaquaextreme.com/our-tours-rentals
Phone: (649) 232-7080 | (649)348-4350
WaterPlay – Located On Long Bay Beach
Offering Hobie Rentals (14 Foot Catamaran)
Website: https://www.waterplaytci.com/product/hobie-rental-14-feet-catamaran/
Phone: +1(649)231-5483 (KITE)
Lady Grace Hobie Cat Sailing Lessons
Offering Hobie Cat Sailing Lessons
Website: https://ladygracecatamaran.com/tour/grace-bay-sailing-lessons/
Phone: 1(649) 339-3211
Provo Sailing Academy
Offering Sailing Lessons And Rentals
Websites: https://www.instagram.com/provosailingacademy/ | https://www.facebook.com/psatci/
Phone: 1-649-431-2397
Your Perfect Getaway At Villa del Mar Resort
Located just steps away from world-famous Grace Bay Beach, Villa del Mar Resort is an intimate condominium property featuring just 42 beautifully appointed suites across three buildings. Villa del Mar is unique. The property surrounds you with beautiful pools and the serenity of its private and impeccably maintained gardens. Our resort is close to activities, dining, and shopping in "Provo." So stay with us and enjoy an incredible sailing experience on Grace Bay Beach!