Shopping For Unique Gifts, Souvenirs & Art in Providenciales, Turks and Caicos – Part 1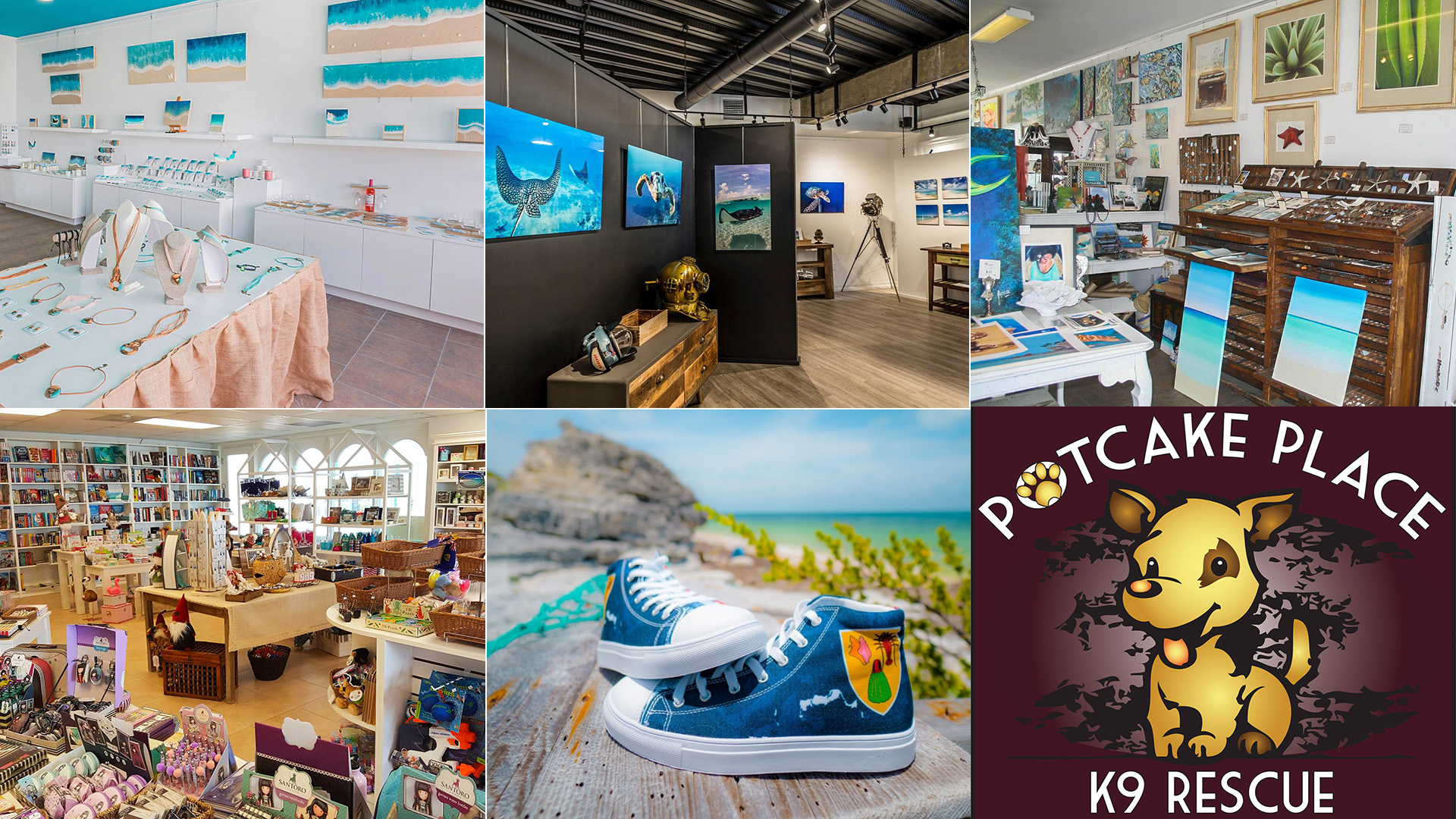 When you visit Providenciales, Turks and Caicos, it's not just the natural beauty that leaves a lasting impression but also the opportunity to take home unique island souvenirs. From handmade jewelry to local artwork, the island offers a variety of delightful treasures. In this guide, we'll explore one of the best places to shop for these souvenirs and the ideal place to stay in Providenciales, Villa del Mar Resort.
Saltmills Plaza
Nestled in the heart of the bustling Grace Bay tourism district, Saltmills Plaza is more than just a shopping spot. It's a vibrant place to explore art galleries, savor delicious, find unique gifts, and shop for trendy clothes. It's not just about shopping, though. You'll also find a branch of First Caribbean Bank, Potcake Place, a popular dog rescue charity, and the Royal Turks and Caicos Police Station. Here are a few unique stores at Saltmills Plaza where you can find unique gifts.
The Wellington Collection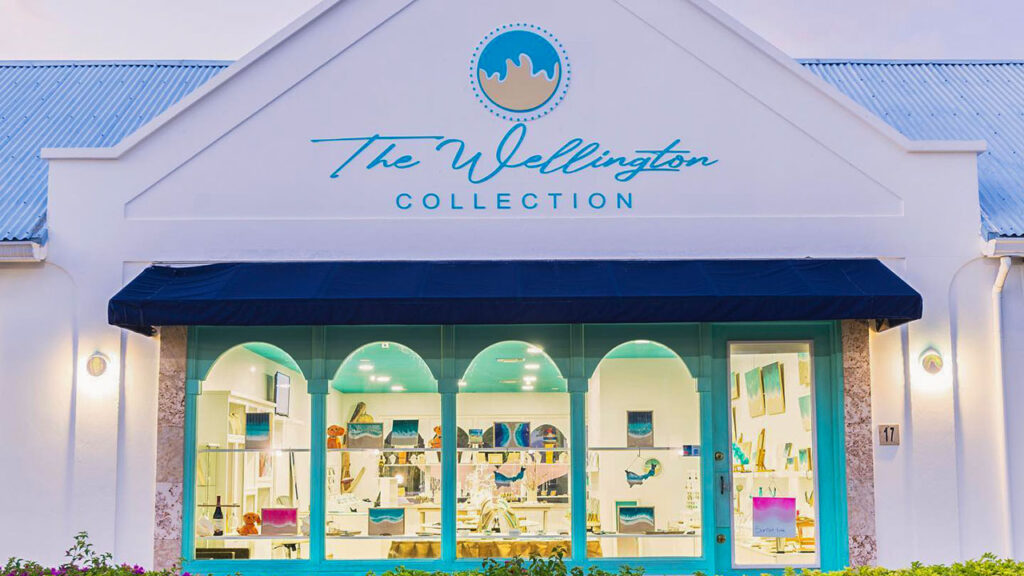 This charming shop specializes in jewelry, art, and unique gifts. It's the brainchild of local artist Wellington Michael Williams, who has a deep-rooted connection to the island.
Williams' journey as a creator began during his school days on Providenciales, where he first ventured into the world of art and jewelry. Back then, he crafted vibrant bracelets and shared them with his classmates. Fast forward to today, and this proud Turks And Caicos Islander is the creative force behind The Wellington Collection. Local symbols like waves, starfish, whale tails, and turtles inspire the unique jewelry. Most pieces are skillfully crafted from sterling silver, local conch shell, Larimar gemstone, and Wellington's distinctive signature – a coating of sand and resin.
The Wellington Collection has you covered if you're looking for sturdier gifts to bring back home. They produce various home and lifestyle items adorned with their signature blue and white resin pattern. These unique offerings include tumblers, keychains, bottle openers, wine bottle holders, cigar holders, water bottles, and more.
Brilliant Studios Fine Art Gallery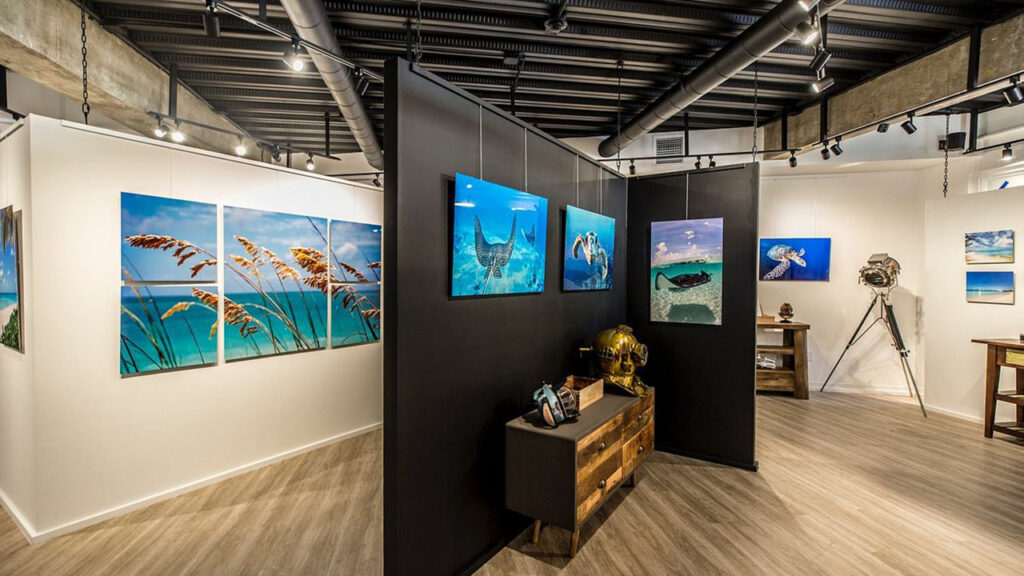 Brilliant Studios, a photography company rooted in Providenciales, specializes in capturing the beauty of weddings, underwater wonders, and the love shared between couples. The talented duo behind the studio, David Gallardo and Anita Marcus have dedicated over two decades to photographing the islands, their vibrant communities, and the mesmerizing life beneath the surrounding waters.
You can visit the Brilliant Studios Gallery in the Saltmills Plaza, where you'll discover a diverse collection of prints featuring everything from stunning landscapes and abstract art to captivating underwater images.
Anna's Art Gallery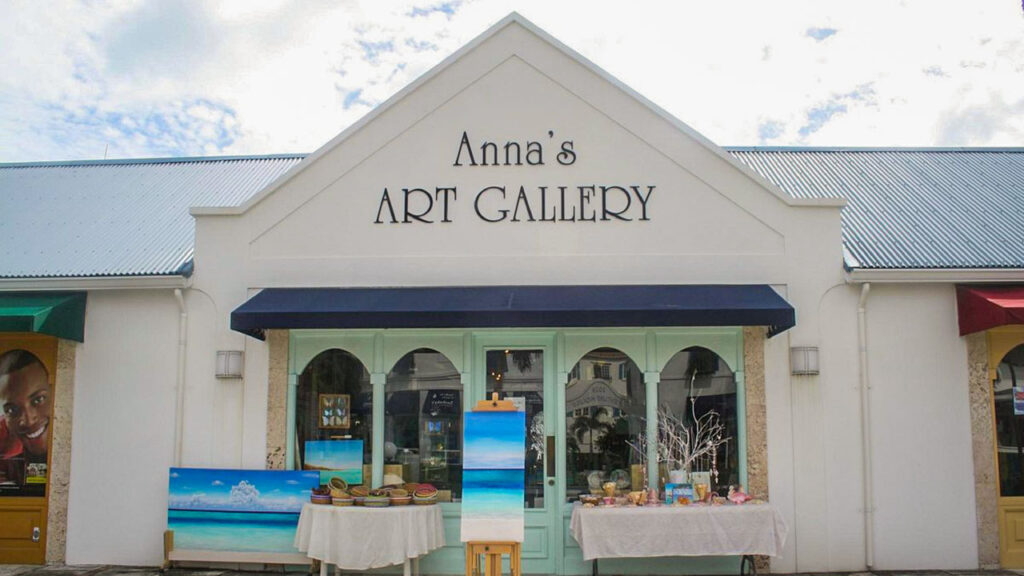 For a genuine immersion into the heart and soul of the Turks and Caicos through art, look no further than Anna's Art Gallery. This gallery is a treasure trove of original paintings by local artists, locally crafted jewelry, handmade crafts, and an array of unique gifts.
The creative force behind this art haven is Anna Bourne, a resident of the Turks and Caicos for over 25 years and a self-taught artist. Anna's artistic journey started at 25 when she discovered her passion for silk painting. She quickly transitioned into a full-time artist, expanding her repertoire to sketching, sewing, and fabric dying.
Since its inception, Anna's Art Gallery has been a haven for art from over a dozen local artists. While their chosen mediums may differ, they share a common thread – celebrating the beauty and grandeur of Turks and Caicos. From paintings and photographs capturing local landscapes to ceramics depicting native flora and exquisite handmade jewelry spanning earrings, necklaces, and bracelets inspired by the island's hues, Anna's Art Gallery offers many different choices for the discerning shopper.
House Of Unicorn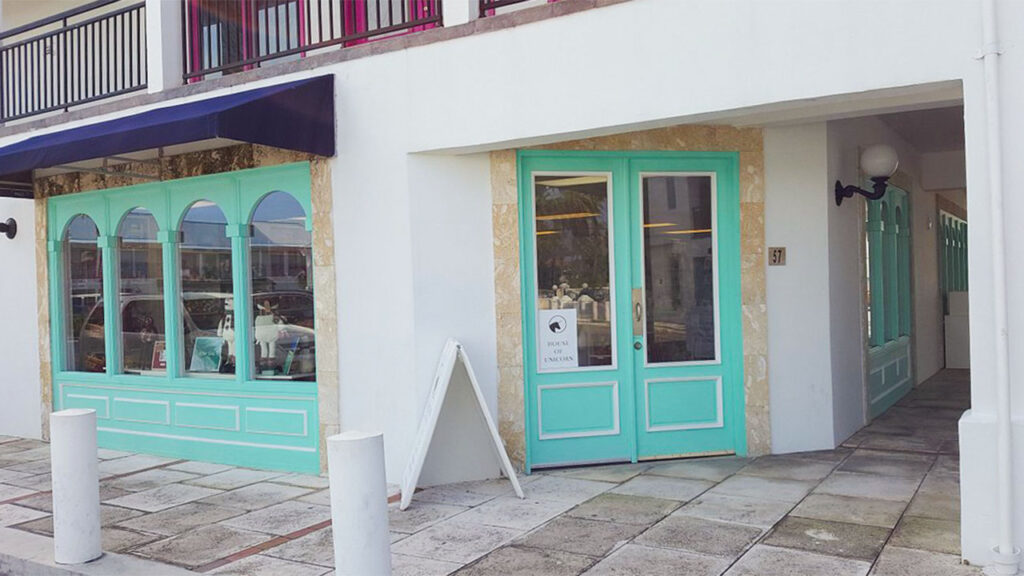 If you're a passionate reader or someone eager to enhance their book collection, House of Unicorn in Providenciales is your ultimate destination. This charming family-owned bookstore not only boasts an extensive array of books meticulously categorized by genre, but it's also a trusted source for those seeking children's toys, games, art supplies, unique gifts, and more.
Konk Apparel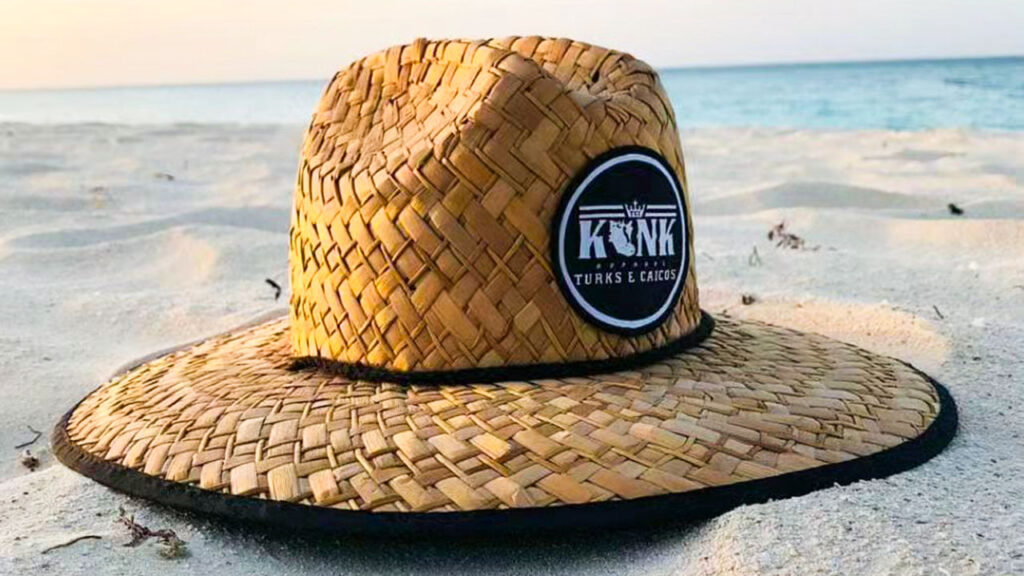 Konk Apparel embodies an active lifestyle and specializes in limited-edition accessories and clothing. The iconic conch, a beloved symbol of the Turks and Caicos plays a prominent role in the Konk Apparel logo and many of its unique pieces. Their inventory comprises a diverse range of items, including caps, shirts, tops, backpacks, sunglasses, and more.
Potcake Place K9 Rescue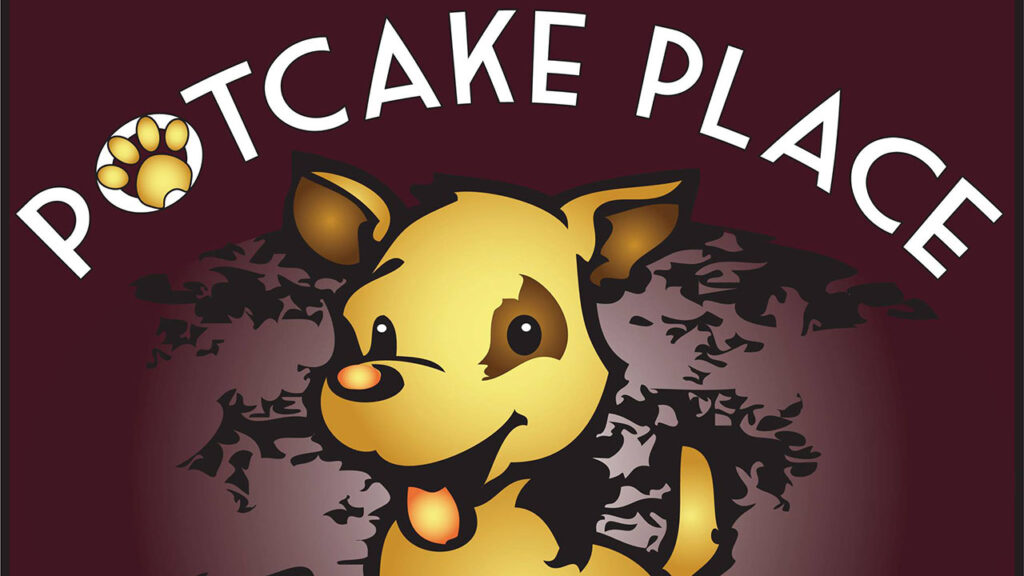 Potcake Place K9 Rescue is a non-profit charitable organization in the Turks & Caicos Islands, entirely run by dedicated volunteers. Their mission is to significantly diminish the population of homeless dogs in the region.
Bring A Potcake Pup Home With You!
While a vacation to the stunning Turks and Caicos Islands typically doesn't involve returning with a furry companion, it's worth considering adopting a Potcake puppy. These adorable dogs need loving homes and are available for adoption once the adoption process is complete. Providing a forever home for one of these pups can be an incredibly rewarding experience. To learn more about the adoption process and how to bring home a Potcake puppy, visit the Potcake Place K9 Rescue website at https://www.potcakeplace.com/homing-puppies/Adoptapotcake.
Shop For Dog-Themed Merchandise At The Adoption Center
If you cannot adopt a Potcake puppy but still want to support the heartwarming cause of Potcake Place K9 Rescue, you can make a difference by shopping at their Adoption Center. This dedicated center offers a delightful array of dog-themed merchandise, from leads and collars to treats, toys, bandanas, and other goodies. In addition, you can find a selection of T-shirts, hats, and accessories. Every purchase you make at the Adoption Center directly contributes to the welfare and well-being of these rescued animals, allowing you to show your love for dogs while supporting the non-profit organization's vital mission.
Stay At Villa del Mar Resort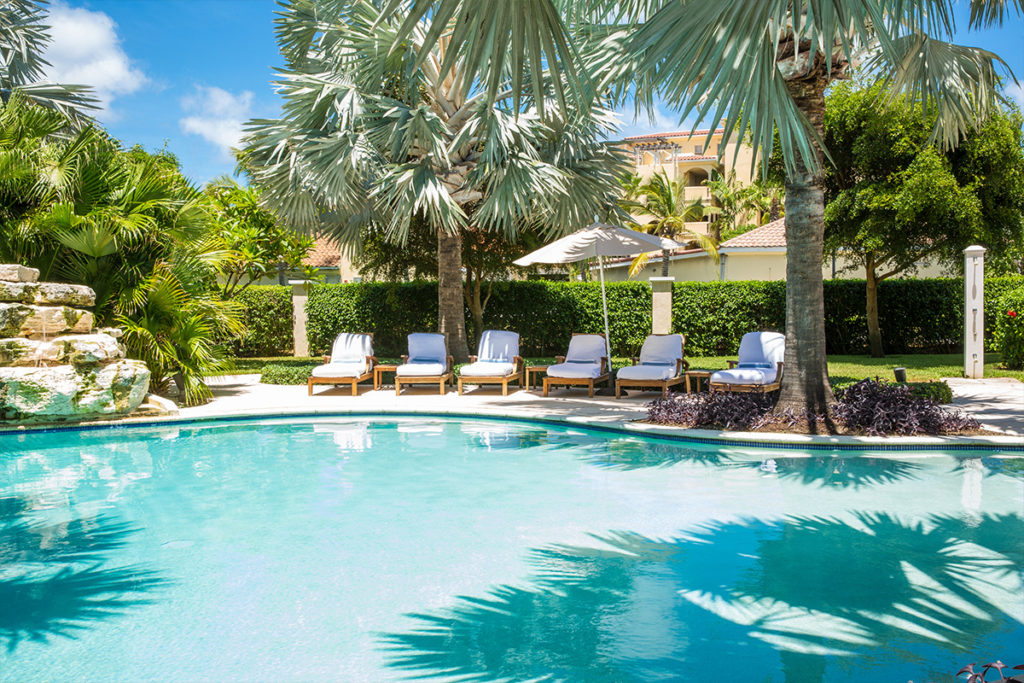 At Villa del Mar Resort, we pride ourselves on providing our guests with a delightful Turks and Caicos resort experience that won't break the bank. Our resort is conveniently situated just three minutes away by car or a pleasant 15-minute walk from the vibrant Saltmills Plaza, offering the perfect blend of tranquility and accessibility. With forty-two units spread across three four-story buildings, guests can enjoy the serene ambiance while overlooking two inviting pools, a soothing hot tub, and the welcoming Tiki Bar. Staying at Villa del Mar Resort means relishing the best of both worlds – a peaceful retreat and easy access to the vibrant heart of Providenciales. Come and experience the benefits of a memorable stay with us!