La Famille Express Shipwreck Turks & Caicos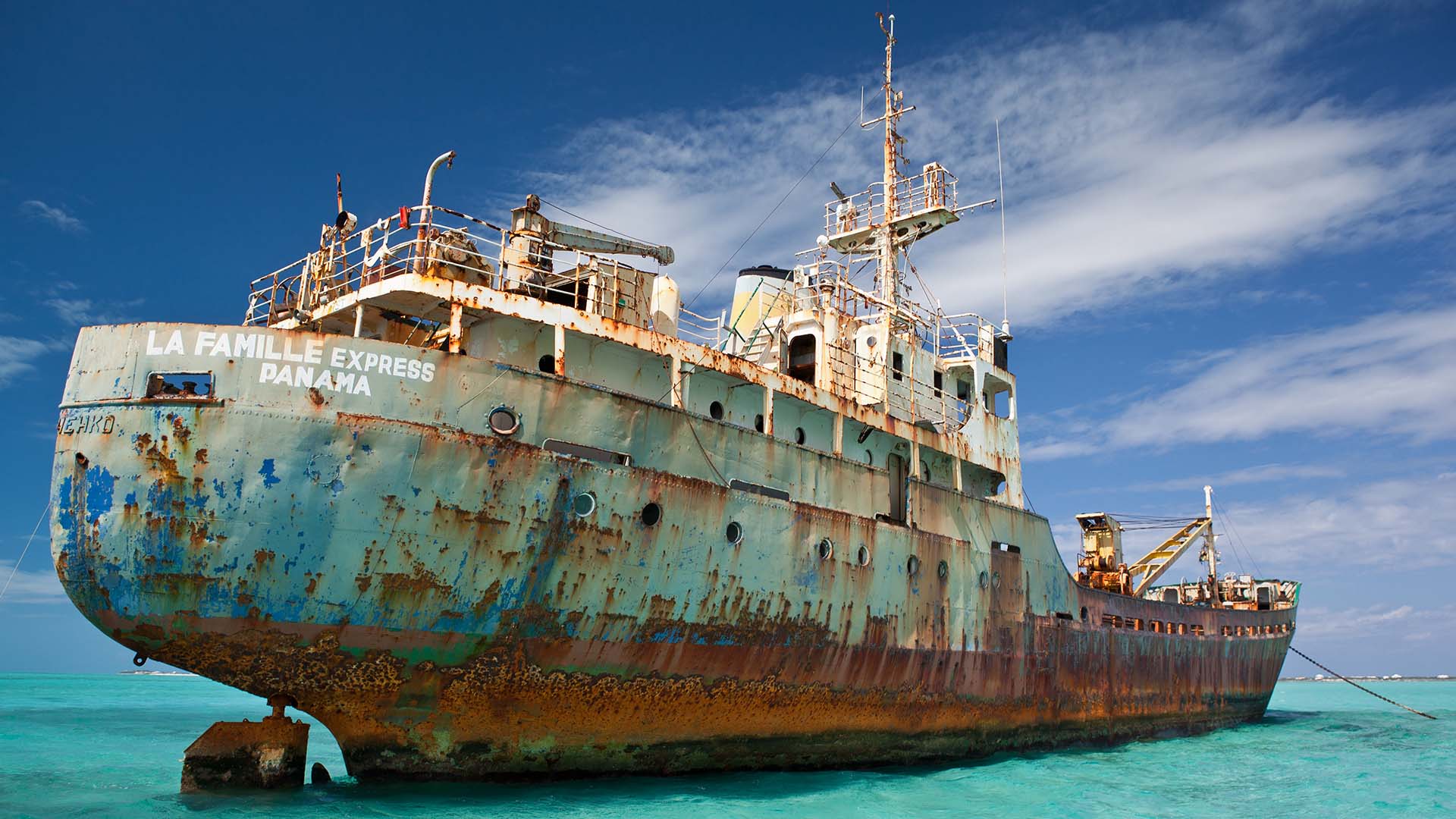 Since the early 1500s, it's estimated that the Turks and Caicos Islands have experienced over 1,000 shipwrecks. The shallow barrier reef that surrounds the Islands has proven to be especially treacherous to ships over the past several hundred years. While not all of these shipwrecks are still in existence, the "La Famille Express" shipwreck is still a popular attraction in Providenciales and is a great way to enjoy a day on the water! In our brief article, we will explore the history of this iconic ship and how it got to be shipwrecked.
the history of la famille express
"La Famille Express" traces its history back to The Soviet Union in 1953 where it was used as an oil rig service ship to transfer supplies to remote off-shore oil wells for the Soviet Navy. The ship was christened with the name, "Fort Shevchenko" after the military base town located on the eastern shore of the Caspian Sea in Kazakhstan. After being acquired by Panama in 1999, the ship was renamed, "La Famille Express," and hauled bulk rock throughout the Caribbean. In 2004, the heavy winds of Hurricane Frances caused the La Famille Express to drift from its anchored position in the South Dock area of Providenciales and become permanently stranded in the shallow waters of the Caicos Banks.
visting the la famille express iconic shipwreck
La Famille Express Shipwreck is two miles off-shore from Long Bay Beach on Providenciales' southeastern side. Many visitors find that getting to La Famille Express is easier on a jet ski or by boat. Experienced kayakers, stand up paddle boarders, and kite surfers sometimes make the trip out to the ship, but casual water-sports enthusiasts will most likely find the two-mile journey difficult. There are many local businesses on Long Bay Beach that offer water-sports equipment rentals and dedicated excursions to the iconic shipwreck. Visitors must exercise caution when visiting The Ship and be aware of the hazards of boarding a decaying sea vessel. Please visit the following website for more detailed information about potential dangers.
make villa del mar your tropical caribbean escape!
Are you dreaming of the perfect place to stay on your next Caribbean Island getaway? Look no further than Villa del Mar Resort. Our resort offers 42 spacious suites overlooking two pools and impeccably maintained gardens. Resort amenities include a weekly cocktail reception at the onsite Tiki Bar and beach service on stunningly beautiful Grace Bay Beach, only steps away from the resort. See you in paradise!