Wedding Catering Services in Providenciales, Turks and Caicos
Beach Wedding Catering For Your Caribbean Dream Wedding
A romantic Caribbean wedding is any bride's dream, but it can present planning challenges that could make this happy day not so sweet. However, here is one planning tip that will literally leave a good taste in your mouth.
Imagine, you've chosen the location for your special wedding day, Providenciales in the Turks and Caicos Islands. You've booked the Villa Del Mar on Grace Bay, an intimate resort that ensures your wedding day will be very private and personal.
The name might make you giggle, but The Kissing Fish Catering Company is very serious about ensuring a truly romantic wedding day with their out-of-this-world wedding catering services in Providenciales.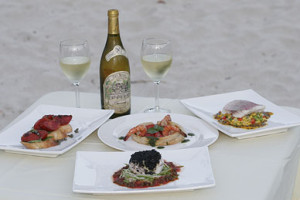 Photo credit: Kissing Fish Catering
"I kept hearing great things," commented one customer on TripAdvisor, "I AM SO HAPPY I chose them!"
Operating for more than 15 years out of the Bay Bistro restaurant on Grace Bay, The Kissing Fish Catering Company caters all kinds of events including birthdays, anniversaries, private parties, weddings and rehearsal dinners. They offer a variety of plated meals or buffet, but clients can also customize their own menus.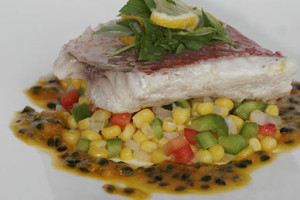 Photo credit: Kissing Fish Catering
The mastermind behind the food is Clive Whent who in addition to running this catering company, is also owner and executive chef of Bay Bistro at the Sibonne Hotel. Whent received classic culinary training from Westminster College in London. Over the years he has honed his skills and now creates an array of international dishes. Whent is a top ranked chef who creates consistently distinctive and award winning cuisine. Customers of his catering business often rave about the meals.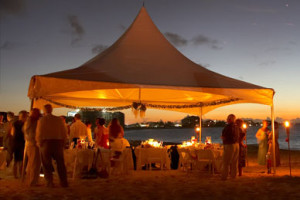 Photo credit: Brilliant Studios
"It was delicious, romantic, relaxing, and the best dinner we could have ever imagined!" remarked one wedding couple who also posted their accolades on TripAdvisor.
"Clive delivered with the food," said another, "It was tasty and beautifully presented."
But what is offered is so much more than just food. The wedding reception choices are choice. Couples can opt to tie the knot at Villa Del Mar, and The Kissing Fish Catering Company will set up and serve onsite or, for the more adventurous, even on the beach. The perfect partner in this planning is Clive's wife Joan Whent. Joan will see to all the details whether it's a beach barbecue dinner or a sit-down meal inside. Menus can be a casual buffet or a more elegant meal. Canapes, special desserts and even full bar facilities are all available. Everything is customized to the number of guests and the venue.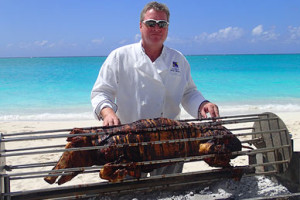 Photo credit: Kissing Fish Catering
There are a lot of details when it comes celebrating your special day, but clients can relax knowing they're in the great hands of the tandem Joan and Clive. While Chef Whent serves up sustenance that more than satisfies, his wife Joan capably coordinates the customer's every whim and wish for their wedding catering.
Said another TripAdvisor reviewer, "Joan was amazing throughout the planning, helping me with the menu choices…and set up."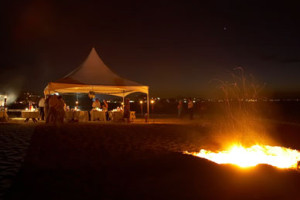 Photo credit: Brilliant Studios
The Villa Del Mar Resort on Providenciales is a dreamlike setting for a wedding. When planning a wedding, you can have the whole resort to yourselves with a minimum booking of 30 rooms. Director of Operations, Alan Lawley and General Manager, Tendra Musgrove pride themselves in going the extra mile to ensure your special event is extraordinary.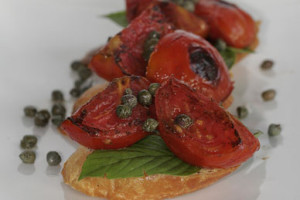 Photo credit: Kissing Fish Catering
Our recent guests, now husband and wife, were genuinely pleased with the support they received from our staff. "Thank you so much for helping to make our wedding perfect! We had such an amazing time in Turks & Caicos, and specifically at Villa del Mar, that when we arrived in the Bahamas for our honeymoon we felt disappointed and wanted to go back! All of our guests spoke very highly of you, your staff and the property. We can't thank you enough! Ryan and I will definitely be back. We absolutely loved Villa del Mar!! Thank you, Ryan & Laurie Favini"
And with the helping hands of The Kissing Fish Catering Company, palates will be pleased, hearts will be warmed and memories will be made that will last a lifetime.