Turks and Caicos Dropping Vaccine Requirement for Entry as of April 1, 2023
We are thrilled to share that it just got a lot easier to visit Turks and Caicos.
Today, the Turks and Caicos Islands Government has announced that it is dropping its COVID-19 vaccine requirement as of April 1.
Previously, the country had eased entry requirements by removing with the need for pre-travel authorization (TCI assured).
COVID-19 vaccination will no longer be required for travelers of any age.
---
August 14th Update:
Official Press Release: Click Here
Update from Turks and Caicos' Director of Tourism Pamela Ewing — Proof of Being Vaccinated Details
Following is the most recent update from Turks and Caicos' Director of Tourism Pamela Ewing:
All visitors who are 16 years and over will require proof of being vaccinated to be granted entry to destination.
The safety and health of our local population and international visitors remain top priorities for the Turks and Caicos Islands, which is now one of the most inoculated countries in the world with over 70 percent of the population vaccinated. The Turks and Caicos Islands announces a new update to its travel requirements, mandating all visitors 16 years and over to be fully vaccinated before arriving in the destination.
Starting on September 1, 2021, all travelers 16 and older will be required to present proof of vaccination through TCI Assured, a quality assurance pre-travel program and portal, prior to entering the country. Travelers must be fully vaccinated, with the second shot taken over two weeks prior to traveling, or one shot taken over two weeks prior for the Johnson & Johnson vaccine. NEW 8/24: The vaccines that are currently being accepted are Johnson & Johnson, Pfizer, Moderna, AstraZeneca, Comirnaty, Spikevax, and Vaxzevria. The TCI Assured portal will accept proof of vaccination in the form of a digital or paper copy of proof of vaccination (unless exempted under the regulations).
Visitors aged 10-15 do not need to be vaccinated but must present a negative COVID-19 test result. Visitors under 10 years old are not required to be vaccinated or present a negative COVID-19 test result. Exempt visitors include those with clear proof from a doctor that they are medically exempt from taking the vaccine and will still be required to present a negative COVID-19 test result prior to traveling. For information on all updated protocols and the TCI Assured Pre-Travel Authorization Program please visit https://turksandcaicostourism.com/tci-assured-faqs/.
Please share with your teams and guests that the new vaccination requirement is in addition to TCI Assured's existing protocols, which require a negative COVID-19 RT-PCR, NAA, RNA or Antigen test result from a test taken within three days of travel, medical / travel insurance that covers medevac, and a completed health screening questionnaire. These requirements must be complete and uploaded to the TCI Assured portal, which is available on the Turk and Caicos Islands Tourist Board website (www.turksandcaicostourism.com), in advance of arrival. Any fully vaccinated visitor who tests positive prior to leaving the Turks and Caicos Islands will be required to quarantine with all accompanying persons at their own expense for ten days, then undergo a mandatory COVID-19 test on day seven prior to release.
The new rule underscores our commitment to health and safety, enhancing travel confidence and giving visitors yet another reason to visit the destination. On behalf of the Turks and Caicos Islands Tourism Board, we thank you for your partnership and your individual efforts to prepare to welcome guests and promote tourism to our stunning destination. These updated procedures will go into effect on September 1, 2021, and we look forward to working with you on a seamless experience for all.
---
August 13th Update:
The Government of Turks & Caicos is imposing new entry requirements effective 1 September 2021. Preliminary details from the Ministry of Health are as follows:
All visitors, aged 16 years of age and above, must be "fully vaccinated". Fully vaccinated means that the person has received 2 doses of an approved COVID-19 vaccine and 14 days has elapsed since the second dose. The Ministry of Health has not published a list of approved vaccines.
All visitors, regardless of vaccination status, will still be required to take a negative COVID-19 test no more than 3 days prior to arrival in the islands.
Visitors which test positive during their stay are required to quarantine, at their expense, for 10 days, and receive a negative COVID-19 test prior to release.
Details of the new policy have not been published by the Ministry of Health. Once details have been published, this information will be updated.
All travelers to the Turks and Caicos are required to obtain pre-travel authorization via the TCI Assured portal. Persons without authorization will not be permitted to board a flight to the Turks and Caicos.
The TCI Assured Travel Authorization is a free authorization and you apply online. You will need:
A negative COVID-19 test result. The test must be taken within 3 days prior to travel in the islands. Children under 10 are exempted from this requirement.
Insurance which covers COVID-19 medical costs and full hospitalization, doctors' visits, prescriptions, and air ambulance.
Completed online health screening questionnaire (part of the TCI Assured free online travel authorization).
Once granted entry, no further COVID-19 tests are required and visitors are permitted to stay for 90 days (extendable for an additional 90 days). There is no mobile tracking app or daily health checks (as in some other Caribbean countries). Visitors are free to travel throughout Providenciales and the rest of the Turks and Caicos without restrictions during their stay.
---
July 23rd Update:
Important: Effective 28 July 2021, the testing window will be 3 days.
New Visiting Requirements:
Effective 28 July 2021, test requirements for entry will change. The testing window will also change from 5 days to 3 days, and antigen tests will be accepted.
Acceptable tests will be:
Professionally administered Reverse Transcription Polymerase Chain Reaction Tests (RT-PCR).
Nucleic Acid Amplification tests (NAA).
RNA or molecular tests.
Antigen tests.
The test must be conducted by a medical laboratory with either of the following credentials: accredited by the College of American Pathologists (CAP); registered by the Clinical Laboratory Improvement Amendments (CLIA); ISO 15189 certification. Previously, the destination was only accepting RT-PCR tests. Antibody tests and results from home-based test kits will not be accepted.
Travelers must also have medical / travel insurance that covers medevac (insurance companies providing the prerequisite insurance will be available on the portal).
If you have a reservation that begins before August 1st and have questions, please contact us directly.
---
International visitors are welcome to the Turks & Caicos Islands.
For the health and safety of your fellow travellers and the people of the Turks & Caicos Islands ("TCI"), you must complete the following entry requirements.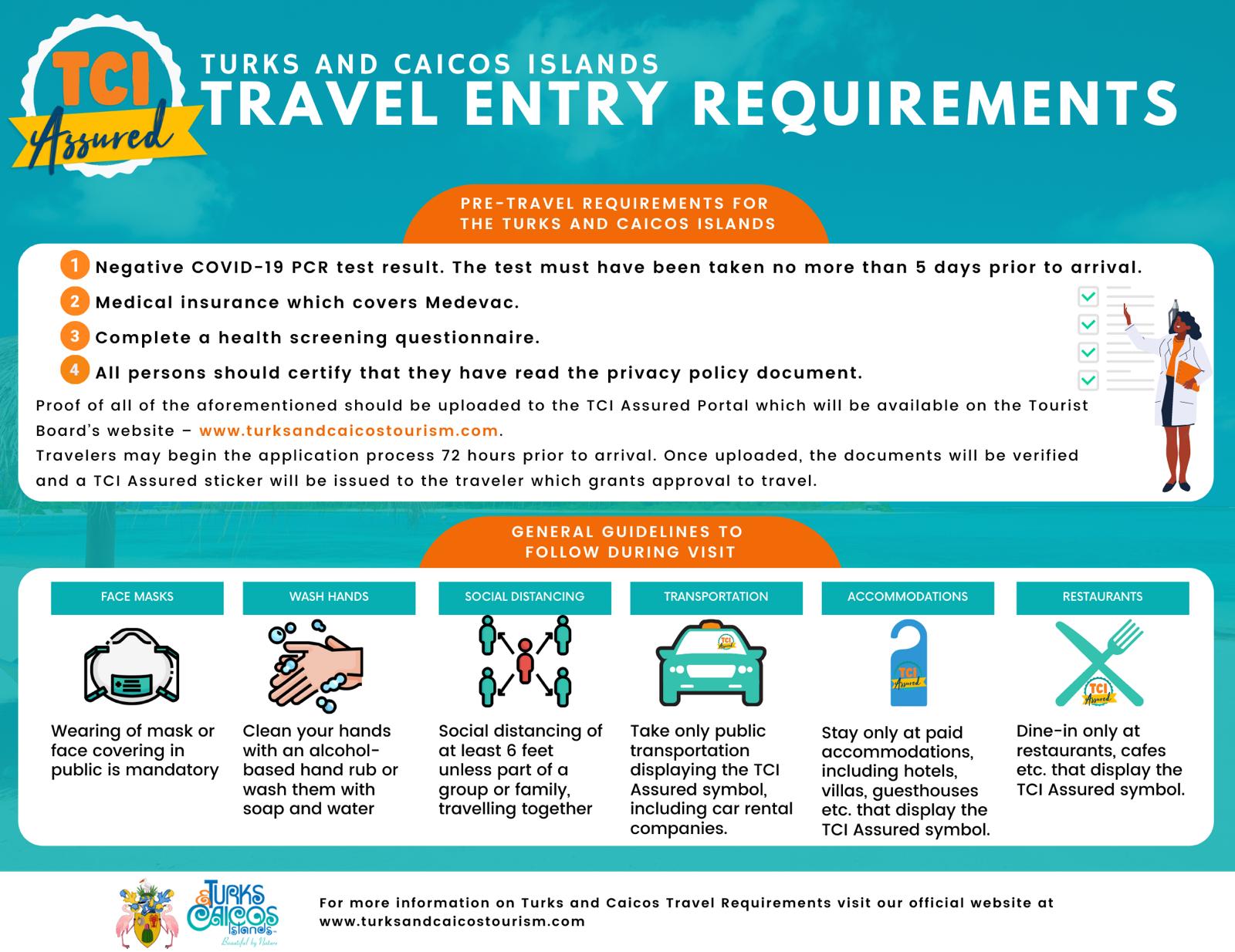 For an easy, at-home 3-day COVID-19 test please click here.
TCI will require all visitors to electronically submit the following entry requirements in order to receive a TCI Assured Certification. A 14-day quarantine period will not be required once you have received your Certification Sticker.
Pre-Arrival Test Results
All visitors to TCI must receive a negative COVID-19 RT-PCR nasal swab test, within 3 days prior to arrival. (Note: Blood Draw, Antibody testing is not acceptable for entry to TCI.)
Use these links to locate a testing site near you:
Drive-Thru Testing
Community-Based Testing
At-Home Test Kit
Proof of Insurance
All travelers must be in possession of medical, evacuation, and repatriation insurance.
Health Screening Questionnaire
All visitors must complete a health screen questionnaire upon arrival to the Turks & Caicos Islands.
Submission to TCI Assured Portal
Negative COVID-19 RT-PCR nasal swab test results and proof of insurance must be submitted electronically to TCI ASSURED, the new quality assurance portal which will be available at www.turksandcaicostourism.com.
We recommend that you carry additional copies of the negative test results and proof of insurance with you in the event that they are required for entry.
Health & Safety Protocols at Villa del Mar
The health and safety of our guests and team members is our highest priority. We want you to book and stay with absolute confidence so we developed Villa del Mar DeepClean to elevate our existing high standards of hygiene and cleanliness procedures.
Guest Health & Safety
Sanitized check-in
Floor decals to indicate appropriate social distance
Hand sanitizing stations at primary entrances and key high traffic areas
Touchless express checkout
Hotel rooms are left vacant and sanitized for up to 72 hours prior to the next check in
Overall Cleanliness
Increased sanitization and disinfection of frequently touched surfaces in all public areas
Extra disinfection of all high touch areas in guest rooms
Hot tub and business center will remain closed
Use of cleaning products certified to effectively kill viruses like Covid-19
Team Health & Safety
Elevated personal hygiene and cleanliness protocols
All staff members to receive personal protective equipment
All staff members have undergone enhanced training to maintain comfort and well-being
If you have any concerns whatsoever, we encourage you to contact us as soon as possible. If there is an opportunity to provide additional safety and care measures, we promise to take immediate action for the health of our valued guests and our team members.
COVID-19 Testing Centers on Providenciales
For compliance with US testing regulations for returning residents, a list of testing centers on Providenciales is available via this document.