Join us for Captain Bill's famous Rum Punch at the weekly reception at Villa del Mar
On Friday evenings just as the sun is skimming the horizon, guests and long time friends of Villa del Mar gather in the presence of the Captain to sip on one of the best rum cocktails available in the Turks and Caicos Islands.
And sipping is not all they do.
This weekly event is a meet and greet with Alan Lawley, Director of Operations and Tendra Musgrove, General Manager; it is also a lovely opportunity to share a few laughs and be regaled with some fascinating stories from the bartender.
Captain Bill is the master behind the bar. Calm and ever watchful, he is our reassurance that no one will go thirsty. His twinkling eyes, youthful looks and generous smile belie his tenure in bartending. And perhaps it is because of his long years of experience looking after thirsty travelers that he has amassed a breathtaking number of recipes meant to calm, soothe, encourage, or embolden us. Among them, his famous Rum Punch.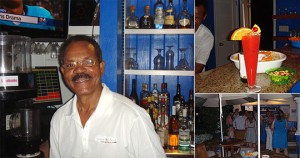 Captain Bill's Rum Punch
8oz Bambarra rum
2oz coconut rum
50% orange juice
50% pineapple juice
grenadine to taste
splash of club soda
Myers Dark Rum on top (splash)*
garnish with cherry, orange and pineapple
…and for the true tropical feel….don't forget the "fancy little umbrellas"
*optional
Makes 1 liter of punch.
Weekly Reception at Villa del Mar
The weekly reception begins at 5pm on Friday when guests gather poolside at the bar. Bowls full of chips and other finger foods are set out on the tables and the icy rum punch is flowing. Whether you join the lively conversation or enjoy a quiet moment gazing over the giant palms and glowing water of the pool, you will find this convivial gathering to be a perfect jump-start to the weekend ahead.
The best spot in the house to catch a great story is right at the bar when Captain Bill is pouring.
An Oenophile's Paradise
Guests at Villa del Mar generally have a sophisticated palette for world-class wines. If you are looking for a special bottle of wine, perhaps something from a small vineyard with limited production, you are in luck.
Villa del Mar has access to a great selection of cult wines including Opus One, Caymus Vineyards, Stags Leap, Screaming Eagle,Harlan Estate, Grgich Hills, and Purples Angel by Montes Wines, Merry Edwards Pinot Noir from the Russian River Valley, Pinot Noir from Flowers winery, and a selection from House of Mandela.
Excellent selection and prices at a discount to North American prices make the Turks & Caicos Islands a pleasantly surprising destination to sample some of the more prestigious wine labels in the world.
Do you want to attend the 2014 the Caribbean Food & Wine Festival?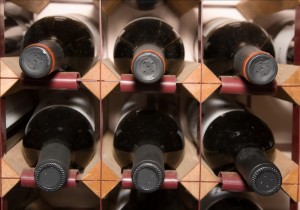 So passionate are we about all things wine that we guarantee that our guests will get tickets to the sold-out annual Caribbean Food & Wine Festival. Book your stay today with Villa del Mar and we will guarantee tickets for the 2014 Festival.
For rates and availability contact us today!