Beachcombing is a great way to enjoy the marine diversity and beauty around Providenciales
"He sells seashells by the seashore."
"The shells that Stanford sells are art shells I'm sure."
Born on Providenciales, Stanford Handfield grew up surrounded by the startling beautiful waters of the Caribbean which is home to the conch and other remarkable marine shellfish. Stanford turns these natural resources into exquisite works of art. He cleans, polishes and transforms conch shells into night lights, decorative bowls, plant holders, soda glasses and designer jewellery.
It's understandable that Stanford is so passionate about shells. The diversity of shapes, colors and designs of seashells in the Turks and Caicos Islands is quite remarkable. Some catch your eye by their glossy exterior; others with their colors.
And conchologists, or those who study shells, are seriously spoiled for choice when it comes to locations for seeking shells in the Turks and Caicos Islands. Beachcombing can turn up some spectacular finds in Pine Cay, Fort George Cay, Salt Cay, Malcolm Beach and Pelican Beach. Dellis Cay, a private island just off Providenciales is renowned for its bounty of sand dollars and shells.
While it's tempting to act like the proverbial kid in the candy store when it comes to collecting seashells, there are regulations in place to protect these treasures. It is illegal to take any shells or corals from any national park in the islands where plant and marine life are protected. Conch shells cannot be taken off the islands during the breeding period from July 15th to October 16th and outside of that period permits are needed to remove more than three shells.
Free grants allow tourists to take up to 3 conch shells out of the country. As for other shells, you are able to take one or two home with you, but it's probably best to ensure they've not come from any area with national park status.
So shell enthusiasts still can seek and see shells by the seashore. They can collect a treasure or just leave it on the beach where they found it. Or they can take home one of Stanford Handfield's shell-based artistic creations to treasure for years to come. No matter the path taken, the shells of the Turks and Caicos remain just as extraordinary.
To find our more about day trips to neighboring islands or best beaches in Providenciales for shell collecting, please contact us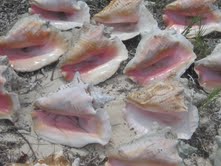 For more information about collecting shells and beachcombing in the Turks and Caicos Islands:
www.tcimall.tc/fisherman/
www.visittci.com/where-to-shop/buying-collecting-exporting-conchs-shells-corals
www.iloveshelling.com/blog/2013/01/29/finding-seashells-on-turks-and-caicos-islands/
myturksandcaicosblog.com/?tag=dellis-cay
hwww.visittci.com/providenciales/northwest-point-national-park
http://www.fodors.com/world/caribbean/turks-and-caicos-islands/fort-george-cay