Hockey is a Popular Sport in the Turks & Caicos Islands and Some NHLers are Making Sure it Stays That Way!
It's Hockey Night in Canada. Time to settle into that comfy chair, grab that delicious daiquiri and wiggle your toes in the white soft Caribbean sand.
Wait a minute. Skates and pucks? A sandy beach?
No, hockey fans, this is no mistake. So popular is the sport that in Providenciales some resorts are setting up big screen televisions on the beach and serving some Canadian favorites such as poutine and ice cold beer.
But the game of hockey isn't just contained within the frame of a large flat screen. Hockey is being played regularly in the Turks and Caicos Islands. But there is no ice. Players wear roller-blades and skate on a floor. And the puck isn't rubber but hard plastic. But the sport is thriving and the number of participants has grown.
Graceway Sports Centre off Leeward Highway on Providenciales is home to the Provo Hockey League (PHL). Initiated by a few locals who are Canadians, Provo Hockey offers skating essentials and hockey technique. There are a number of divisions within the league featuring the mini, bantam and midget levels. And both youth and adults are getting involved.
And this year marked a remarkable event for the organization. A training camp was held for young players and the coaches were NHL players Matt Bradley, Dan McGillis and Fred Brathwaite. Bradley played for the Florida Panthers and in 2012 played professionally in Finland. As well as an NHL player, McGillis played for many other international leagues, most recently the German elite Deutsche Eishockey. NHL goaltender Braithwaite played for a number of NHL teams, then in 2007 took up the net with the elite Mannheim Adler league in Germany Braithwaite was the goalie coach for Canada's World Junior Team and so the chance to share his deep love for the game with young hockey enthusiasts was especially sweet.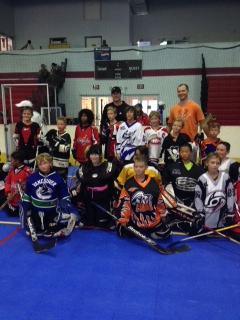 The training camp allowed young hockey players to learn new techniques and practice their skills alongside these professional players. It was an opportunity for these players to give back to the community. And, for the Canadians who started the hockey fever on Providenciales, it was a chance to share their heritage and hockey passion.
Hockey and the Caribbean is a strange brew but quickly becoming a favorite taste. While soccer remains the leading sport in the Turks and Caicos, hockey is a strong second. There are now 100 or so kids participating in the league.
The weather is warm and sunny and the beaches are golden in the Turks and Caicos Islands. But while it might be sizzling outside, inside there's plenty of steam from stick handling and goal scoring.
For more information:
hub.aa.com/en/aw/ice-hockey-provo-hockey-league-united-states-turks-and-caicos-islands
www.upmagazine.com/story/article/inside-provo-hockey-league
www.sirencommunications.com/blog/2013/02/slapshots-sand
dailyxy.com/article/hockey-night-in-turks-caicos/
www.nhl.com/ice/player.htm?id=8465059
www.nhl.com/ice/player.htm?id=8459252
ingoalmag.com/news/hockey-canada-adds-4-nhl-goalie-coaches-to-development-plans