An Underwater Playground Features Mermaid Bella
You're metres below the surface of the Caribbean water. Brilliantly coloured fish swim near your face, darting and moving individually or in large schools. Swimming by you are bright blue tangs, playful parrotfish, dainty damselfish, and the occasional beautiful mermaid.
No, you are not imagining this. You are able to see a mermaid in the waters off Providenciales in the Turks and Caicos Islands.
"Mermaid Adventure" is one of several eco-tours offered by Caicos Tours Underwater Adventures which is located at Turtle Cove on Providenciales – just a short 7 minute drive from Villa del Mar along Lower Bight Road. Guests travel in the Undersea Explorer, a semi-submarine which is a vessel that travels along the surface of the water with passengers seated in an air-conditioned cabin that is five feet below. Each guest has their own viewing window through which they can see the amazing marine life all around.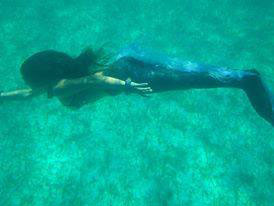 Photo Credit: Guest Photo
One of these beautiful fish is Mermaid Bella, who makes this excursion truly remarkable for guests. "Bella" is actually professional free diver instructor and enthusiast Joanna (Josie) Smith. She started out as a professional scuba diver. But she was introduced to free diving – diving without the use of breathing apparatus – on a trip to Thailand in 2005. After obtaining certification, she began teaching and sharing her passion with others. Her free diving skills allow her to truly bring Mermaid Bella to life. In her sequined suit, with her long hair flowing and her large tail behind her, she makes a definite impact on tourists.
"We got to see lots of undersea life," said one tourist, "but the highlight of course was seeing Bella Mermaid. My daughter regularly tells people she has seen a real mermaid."
Josie shared some fun facts about Mermaid Bella:
Bella, when she was very young, followed Christopher Columbus across the Atlantic Ocean. She fancied him something rotten so kept him and his ship safe by using a conch shell to warn him of reefs and bad seas.
Still to this day Bella calls out on a conch shell to protect the boats and people living in the Turks and Caicos. On the sub, they use a magical conch horn to call Bella to them 🙂
Bella is 523 years old, so really just a pup.
As she gets older, she changes tail colour, at the moment she is Gold … when she first started to meet the people of Turks and Caicos she was silver.
However, her tail can change colour if she's moody, sometimes Green (jealous), something Red (stroppy) and if she's not feeling well, she goes White.
She loves kids, but adults are OK too (just not too many at one time).
She is sensitive to noise … too much and she has to go back under to escape … humans talk very funny.
She speaks fish and whale fluently. She's still trying to learn Squidish -that's a difficult one.
She's vegan. Fish are friends, not food.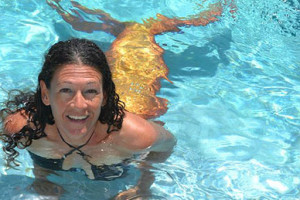 Photo Credit: Driftwood Studio
And when we asked Josie to tell us a little bit more about her work and why she is so passionate about it, she told us, "As for me, I believe the ocean should be respected. To respect something you have to understand it and simply put most of us don't." She continued, "The eco element is incredibly important to me, but the other thing that has really been so fulfilling is working with the kids, mostly the younger ones but all ages really … when they truly believe, and you connect with them and share a moment that leaves you feeling 'heart fuzzy' … there's nothing like it. Seriously. With all the stresses of day to day, to have those moments is a true, sincere and very real privilege."
With these heartfelt sentiments and deep passion for bringing joy and understanding to young (and young at heart), undersea explorers, it's no wonder the Undersea Explorer was awarded the 2013 Certificate of Excellence by Trip Advisor for its unique take on eco tours in Providenciales. The boat itself doesn't completely submerge, so if for any reason a guest wants to move up from the cabin to topside, they can. It's a unique way for people to experience the undersea world without having to don masks and snorkels or learn how to scuba dive.
One woman shared, "It was particularly enjoyed by my mother who is unable to get comfortable with snorkeling and was thrilled to finally see all the beautiful fish and turtles we had been telling her she was missing out on."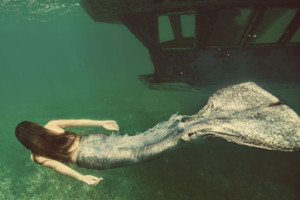 Photo credit: David Gallardo, Tropical Imaging
Mermaid Adventure is a chance for people to see and learn about the coral reefs all around the islands. When Josie is not introducing Mermaid Bella to passengers, she is serving as their tour guide explaining the marine world they're seeing through the boat windows. She explains, "We do such a lot of damage without knowing it, and the sub / Bella gives me an opportunity to offer a little of that knowledge, in a lighthearted way, to the next generations coming through, after all, our actions today will affect their tomorrow."

What better ambassador could there be than a charming and captivating mermaid?
It's a magical memorable not-to-be-missed excursion.
Said one visitor who made the journey with Undersea Explorer, "If you don't do anything on Providenciales but one thing, do this!"