Thrilling Sightseeing Excursions around Providenciales
Flying high over Caribbean islands is thrilling and will give you a spectacular view. Absolutely.
But one charter helicopter company in the Turks and Caicos Islands soars high above the basic flight package.
Helicopter tours of the Turks and Caicos Islands, offered by TCI Helicopters, a helicopter charter company, include a multitude of services and packages for customers.
Owners Dietrich Peters and Susan Bradley were on vacation in the islands in 2005 and were immediately taken with the beauty around them and the friendliness of the people. Four years later their venture, TCI Helicopters took flight and they haven't looked back over the tail rotor since.
TCI Helicopters is all about top quality service and showcasing these unique islands to visitors. First and foremost, TCI Helicopters offers tourists a million dollar view.
"The views and the pictures that we were able to take are priceless!" raved one tourist on TripAdvisor.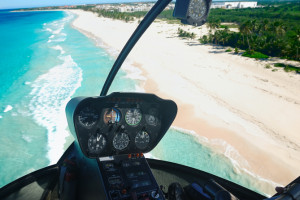 Flying as opposed to road travel allows visitors to cover the area in a much quicker time. From high above the islands, passengers are truly able to capture the colors, the beauty and the perspectives they would not otherwise get from the ground. TCI Helicopters offers various tour packages from shorter local trips around Providenciales or longer excursions to the North, Middle or South Caicos Islands. Flights range from 20 minute to 45 minute excursions.
Do you have a tight travel schedule? Do you need to make a specific travel connection? TCI Helicopters offers airline transfers departing from Providenciales to various destinations such as Salt Cay, North or South Caicos, and Grand Turk. Reservations are only a call or online transaction away.
And for those who want something a bit more exclusive, private charters are also available for an hourly rate.
"This is the way to see the beautiful islands!" posted another visitor on TripAdvisor.
Guests are charged only for actual flight time and the cost of fuel is included in the price. If there are specific places you want to see, this is truly the way to design your own personal charter.
However, TCI Helicopters is not just about tourism. Using the Canadian-made Bell 206 Jet Ranger, TCI Helicopters has also equipped some of its helicopters with medevac equipment and emergency floats. Owners Peters and Bradley are committed to the island community around them. In the wake of Hurricane Ike in 2008 they made a substantial donation to the Hurricane Relief Fund. TCI Helicopters also regularly provides donations to fundraising events for groups such as the Salvation Army, Red Cross and the Emergency Medical Services.
TCI Helicopters is a well-known sight on the Turks and Caicos air highway. Whether you need to make that tight business connection, enjoy some spectacular sightseeing or simply want a thrilling alternative to plane flight, TCI Helicopters will scoop you up and get you there. The rotors are ready. It's time for take-off to your own bird's eye view of the Turks and Caicos Islands.
To make a reservation, or to learn about sightseeing adventures:
Tropicana Plaza
Leeward Highway, Providenciales,
Turks and Caicos Islands.
Phone: 649-941-5079
Mobile: 649-432-4354
E-mail: info.tcihelicopters@gmail.com
To read more: