Turks and Caicos Family Resort Close to Grace Bay Beach
When looking for a great family resort in Turks and Caicos, the smart traveler always considers convenience, value and location, location, location. And they find this and more at the Villa del Mar!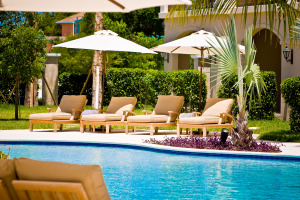 Just steps away from beautiful Grace Bay Beach, the Villa del Mar condo resort offers full-suite accommodations at rates that won't hurt your wallet. Families can choose two or three bedroom suites featuring contemporary kitchens equipped with fridge, dishwasher, stove, microwave, coffee maker, cutlery, and pots and pans. Each suite has its own washer and dryer, and ground floor units open out onto the gardens and pool deck allowing parents to keep a close eye on children.
Beyond the spectacular suites, families can enjoy the private, lush property that boasts two swimming pools, a hot tub, private barbecue area and a Tiki Bar staffed by Captain Bill. One of the pools even offers a shallow entry area, perfect for little ones to play in.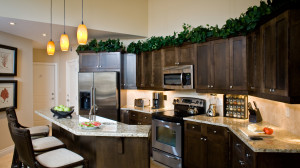 Villa del Mar provides a daily complimentary breakfast and, for your other meals, you can stock your kitchen at the nearby IGA grocery store and deli which are just a quick drive or 15 minute walk away. Maybe the cook wants a break? Cafes and restaurants are nearby which can satisfy even the youngest palate. Kids will especially love the crazy assortment of cool treats at Giggles Ice Cream Parlour, located at the nearby Ports of Call Shopping Plaza.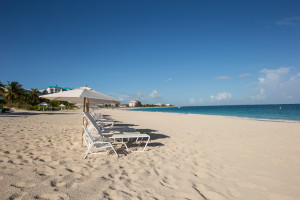 Villa del Mar is the perfect family resort in the Turks and Caicos whether you're visiting with just your family or organizing a multi-family gathering. Ground floor suites, elevators, and the convenience of low-rise buildings and level walking paths make this resort perfectly suited for little feet and for those who may have mobility issues.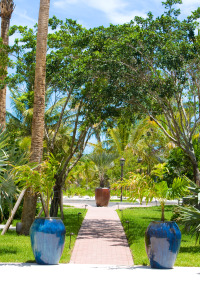 Once you are on Grace Bay Beach, here is where this family resort comes alive. There is a private beach area for Villa del Mar guests. Beach attendants, twin brother Kerone and Lerone, provide beverage service, fresh linens, beach toys and floats for children, and assistance with food service and family excursions.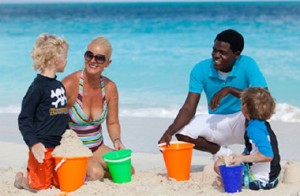 So choose the Villa del Mar for a fabulous, fun-filled family vacation in Turks and Caicos Islands. Check here for rates and reservations and seasonal special offers.