Unique Ingredients and Ambiance Served Up Along Grace Bay Beach
Eating and drinking are definitely favourite things to do on Providenciales, and there are a number of island spots offering incredible ingredients and innovation. A great cocktail involves mixing, measuring, quality spirits and know-how, and some of the island bartenders have got this methodology down to a tee.
Lady Godiva
Fritz the Cat
Scarface
But you probably don't want to consume them all at once.
Things might get a bit blurry.
These three headliners are not on the big screen and don't involve sets or lighting; they're fancy drinks actually and are all examples of the creativity at play when it comes to the art of the cocktail in the Turks and Caicos.
The Tiki Bar at Villa del Mar
If you're a guest at Villa del Mar, you don't even have to leave the resort to enjoy delightful drink creations from a master mixer. The Head Bartender at the resort's Tiki Bar is William Grant, known affectionately as Captain Bill, a top notch bartender who definitely knows how to concoct a cocktail. His rum punch at the Manager's Reception at 5pm on Wednesday evenings is always a hit, and his Villa del Mar Hurricane repeatedly wins rave reviews. And while he knows how to layer flavours and mix ingredients, he also infuses any guest's vacation experience with humour, humility and hospitality that is first class hands-down.
The Tiki Bar hours are 12:00 pm to 8:00 pm (Mon – Sat) & 1:00 pm to 8:00 pm (Sun). Guests at Villa del Mar can dial extension 4109 directly from their room to pre-order.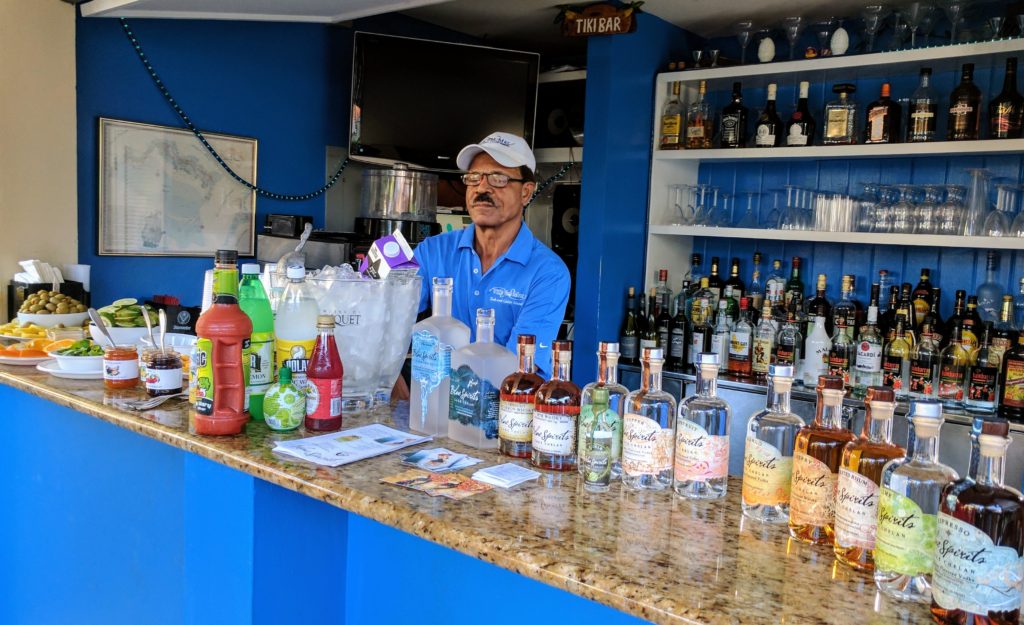 Infiniti Bar at Grace Bay Club
So where to go for phenomenal potables and creative cocktails? Just cross the street from Villa del Mar! The Infiniti Bar Restaurant and Raw Bar at the Grace Bay Club is another of Providenciales' cocktail bars offering a unique ambiance. At 90 feet long, the Infiniti Bar, which is situated next to the restaurant, is the longest bar on the island. Here as you sip and savour, you have the sensation that the bar goes on forever into the horizon. It's a spectacular setting, particularly when the Caicos sun goes down. Why not try a Red Berries Mojito as the ruby reds illuminate the sky around you?
Somewhere Café and Lounge
There's no shortage of creative cocktails served up at Somewhere Café and Lounge. A ten minute drive from Villa del Mar, this beachfront two storey open air eatery offers Tex-Mex cuisine, live music from island entertainers and artisan drinks. Here overlooking the azure waters, you can kick back at the end of the day. Somewhere is home to fanciful rum creations like the Scarface or Fritz the Cat as well as an extensive variety of tequila drinks on the menu.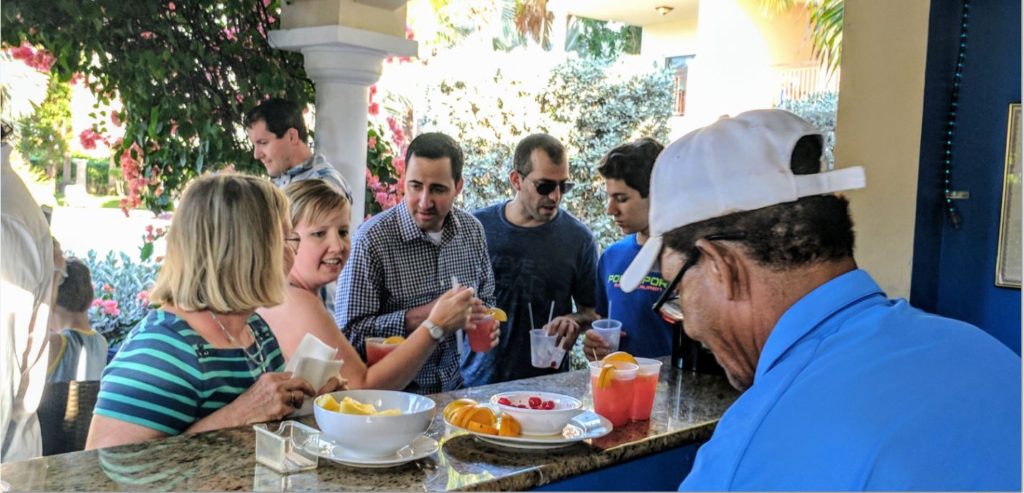 Crackpot Kitchen
Offering another collection of creative cocktails is the Crackpot Kitchen Restaurant Bar and Grill about a six minute walk from Villa del Mar. Located at the Port of Call centre, Crackpot features authentic island cuisine and an extensive bar menu. You can go beyond the traditional pina colada or margarita here and sip something new like a hint of coconut in the JoJo Blue named for the famous and friendly local bottle nosed dolphin or the chocolate liqueur based Lady Godiva or a twist on the classic, the Champagne Mojito.
There's a luscious libation awaiting any visitor to the Turks and Caicos. No matter the size of the glass or the ingredients being mixed, you can bet it's shaken with love at one of Providenciales' cocktail bars.