Brilliant Chef, Inspired Cuisine…another great reason to visit the Turks & Caicos
He might be living in one of the most beautiful places in the world, but Chef Francois Hubert finds just as much beauty in the food he's cooking.
Hubert, chef of the Seaside Cafe on Providenciales in the Turks and Caicos Islands, was just 15 when his culinary journey began when he happened to read the cookbook "Meat and Game" by well known chef and author Charles Trotter.
"The whole beauty about food just hit me", remarked Hubert.
And hit him it did. Hubert was smitten with the artistry of fine cuisine. He took a summer cooking job at a naval reserve then, keen to learn more about his craft, enrolled at Bel Avenir culinary school in Trois Riveres, Quebec. Over the next few years, Hubert continued to hone his skills in the kitchens of hotels throughout Quebec. He quickly moved up the ranks from sous-chef to chef.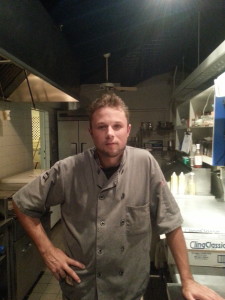 At 22, Hubert received an offer that would dramatically change his culinary career. The owners of the restaurant Coco Bistro on Providenciales invited him to the island to be their chef. He enthusiastically agreed.
"The restaurant owner called me. I had just enough time to adjust my passport and visa."
But Hubert was motivated. After all, this restaurant was a top flight dining spot.
"Coco Bistro is one of the most beautiful and prestigious of the island," says Hubert.
For the next three years he rose to the challenge of managing the kitchen, the menu, inventory and staff scheduling. It was hard work, but the variety and availability of local fresh seafood, combined with the exotic fruits from the Caribbean, made the work an invigorating challenge. It was a whole new world of flavors and possibilities.
As his expertise grew, the demand for his services increased with professional stops first at the Mango Reef restaurant and then, finally, in 2010 to the Seaside Cafe at Ocean Club West Resort. This restaurant is located right across the street from Villa del Mar on Bonaventure Crescent, and boasts a spectacular view. Visitors usually comment that this place all about location, location, location! But what's coming out of Francois Hubert's kitchen and onto the tables of diners is just as remarkable.
One diner commented, "They have a good chef here, and it shows. The food is delicious….nicely presented."
Hubert's menu offers a fusion of flavors. His award-winning Conch Ceviche, for example, blends the sweetness of the conch with the tang of a citrus sauce. Risotto, however, is definitely the proverbial ace up his sleeve in the kitchen. It pops up all over the menu. There are Crispy Snow Crab Risotto Cakes and Lobster Mushroom, Green Bean, and Truffle Risotto. Customers repeatedly rave about his lobster shiitake risotto which has become an island favorite.
"He makes the best Lobster risotto….yum!" one happy patron wrote enthusiastically.
Chef Hubert is a cook with imagination. Though he is trained in traditional French cuisine, he is always trying new approaches.
"I love to inspire myself," says Hubert.
And so he does. He takes inspiration from the foods of Asia and South America and there are several menu entrees where he has introduced exotic Thai flavors. He infuses every dish with creativity, passion and the unique essence of the islands. And Chef Hubert is happy to share that passion for the palate with one of his favorite recipes. So here it is, "South Caicos Escolar with White Miso Sauce".
Bon appetit!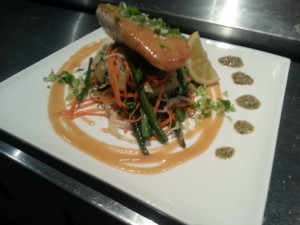 Pan Seared South Caicos Escolar with White Miso Sauce
1- 7oz portion fresh Escolar fillet
1 portion steamed jasmine rice
5 each shiitake mushrooms
1 baby bok choy
1 carrot
3 each scallion
1 hand baby green beans
3 tbsp Saykio white miso sauce (see below)
1 tbsp Wasabi mustard (see below)
Lime and fresh cilantro for dressing
1 tsp sesame oil
Saykio White Miso Sauce
3 oz sake wine
3 oz mirin vinegar
1 cup white miso paste
1-2 cup sugar
Warm sake, mirin and sugar until dissolved, then add miso paste at low heat until all are combined, set aside until cold.
Wasabi Mustard
3 tbsp mustard seed
1/2 cup mirin vinegar
1/2 cup lemon juice
2 bunches scallion
1 bunch cilantro
2 tbsp wasabi paste
Set mustard seed in vinegar overnight, then blend all ingredients in a food processor until smooth.
Preparation
Cut all vegetables in julienne style, then stir fry in sesame oil until tender, reserve.
In a non-stick pan, flash-cook escolar on both sides, make sure it's still rare inside, then add 1 tbsp of miso sauce on top and let it glaze in the oven at 500 degrees F (260 C) for 1 minute, reserve.
Add jasmine rice in the middle of your plate, top with stir fried vegetables, then escolar, add the remaining miso sauce and the wasabi mustard around the outside of the plate, top everything with fresh cilantro… Enjoy !