Top O' the Cove Brings Deli Favorites to Turks and Caicos
What do you think of when you hear the words New York Deli? Pastrami piled up high between two slices of rye bread? Or maybe a heap of potato salad and a big juicy kosher pickle on the side? The roar of traffic and yellow taxis rushing by out the window?
Well, you can experience all of that, minus the street noise, on a small Caribbean island.
Angela's Top O' The Cove Deli on Providenciales serves up downright delicious dishes in the Turks and Caicos Islands New York deli style! Located off Leeward Highway at Suzi Turn Road, this establishment is housed not in a New York high rise, but in a quaint, sky blue, typically Caribbean building complete with a white picket fence.
"Top O' the Cove is rather tucked away off the highway," commented one tourist on TripAdvisor, "so keep your eyes peeled when trying to find it because you will be sooo happy you did."
It might be off the beaten path, but there's plenty of action going on inside well worth talking about. Top O' The Cove not only serves full breakfasts and an amazing array of deli and gourmet items. Variety is the operative word here. If you're looking for a lunch item, you'll be spoiled for choice at this deli which serves up an array of amazing bagels, lip-smackin' sandwiches, salads, wraps, desserts and of course, pastrami.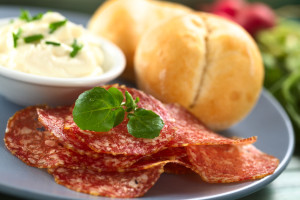 Top O' The Cove is the home of the New York Hot Pastrami or Reuben sandwich, no doubt about it. But it also offers up other international choices like the Greek lamb and beef Gyro and the spicy Italian Meatball Hoagie. And if you crave some local cuisine, there are items like home-made conch chowder or blackened fish sandwiches.
"Great deli selection, no wonder it is busy every morning and lunch." remarked another tourist on TripAdvisor.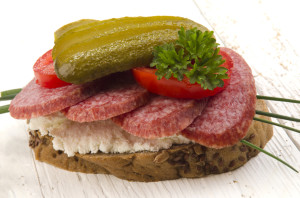 Top O' The Cove is definitely busy. Since opening as a small deli in 1992, it has expanded its menu and operation and now also provides a professional catering service. Clients range from local groups like the Rugby Team to international customers like the cast and crew of the BBC Film "Turks and Caicos".
Customers keep coming back to this deli. Locals know it and visitors find it. As they say on their website Top O' The Cove is "New York style in 'da islands".
As another frequent visitor to the Turks and Caicos shared "I discovered it (Top O' The Cove) a short time after I arrived in Providenciales 3 years ago, and it remains on my favorite list."
The deli is a short 7 minute drive from Villa del Mar and a great stop on your way to explore Chalk Sound and Sapodilla Bay. Top O' The Cove is open for breakfast, lunch and takeaway dinner from Monday to Friday from 6:30am to 5pm, Saturday from 6:30am to 4pm and Sunday from 7 am to 2pm. Visit them at www.topothecove.com This is a great spot for casual dining on Providenciales, Turks and Caicos Islands.
More info: