Glow Worms Steal the Show During Monthly Mating Ritual off Providenciales
It's a warm Caribbean evening and the cruise vessel you're in is smoothly skimming the water.
You notice the water is beginning to take on an emerald green glow and wonder about that rum punch you've been sipping aboard the boat.
But this is no alcoholic effect: it is Mother Nature in her glory.
Monthly Mating Ritual
For several nights after the full moon, the waters off Providenciales in the Turks and Caicos Islands are home to the mating ritual of the Odontosyllis enopla or the marine glow worm. The female glow worm releases her eggs and emits a bright green luminescence which attracts the male to dance around her and fertilize the eggs. For 15 to 20 minutes the surface of the water is lit up with a shower of tiny lights like the stars in a clear night sky.
"The glow worms themselves provided a show which lasted for 25 minutes," commented one tourist, and then added, "the word spectacular does not do justice."
Glow Worm Sailing Excursions in Providenciales
The sight is so remarkable that it has become a must-see on the list of things to do for tourists. There is a wide array of tour packages available. One of the local charter companies, Sun Charters, allows visitors to sail off into the sunset aboard a 69 foot schooner. The Atabeyra was originally a trading ship which carried commodities like plants, rum and beer and traded between the Turks and Caicos and Hispaniola. Now refitted with lovely finished decks, she can carry up to 50 passengers.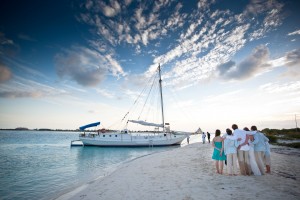 David Douglas from Sun Charters says, "We ask that our guests meet us on the Blue Haven Marina VIP dock in Leeward. For bigger groups we recommend specific taxis that are familiar with the area and offer a rate of $5/guest each way."
"The ship quietly slipping through the waters in the evening is an incredible experience," remarked one woman sailing on Atabeyra.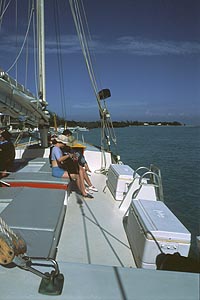 Silver Deep is another local charter company offering Glow Worm Cruises as well as fishing and sightseeing excursions.
And if sailing is not your preference, there are other charter options. Reef Peepers Charters, based out of Turtle Cove Marina, allows visitors to board a glass bottom catamaran and Silver Deep operates a power deck-cat to cruise the shore waters. Regardless of the charter, guests rave about what they see from the boats.
"We got to go on the Glow Worm Cruise this time, since we were there just after the full moon! It is a wild experience- it's unlike anything you've ever seen," said one woman.
Another tourist commented, "It's something unknown and stunning."
It's easy to choose the mode of travel. It's figuring out when to see this phenomenon that's may not be as simple. This is what is known: there needs to be a full moon, the best time to see the luminescence is about an hour after sunset (nothing happens before or after that time) and the intensity of the luminescence depends on the number of glow worms. If only a few mate, there is far less overall green luminescence.
In other words, you can't control Mother Nature. But then you usually can't orchestrate the extraordinary. But if you're lucky and the conditions are right, you could see the brilliance of the night sky in the waters below you. Who knew such a tiny creature could provide such magnificence?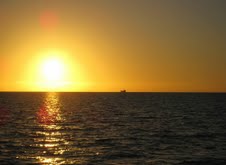 Glow Worm Mating Timetable for 2014*
February 19, 2014
March 21, 2014
April 20, 2014
May 19, 2014
June 18, 2014
July 17, 2014
August 15, 2014
September 14, 2014
November 11, 2014
December 11, 2014
*may vary by a day or so on either side of the dates shown
Stay 3 Nights and the 4th Night is Free!
Villa del Mar is offering a 4th Night Free special for stays started and completed between May 1 and December 1, 2014. If you want to experience the Glow Worms, include a couple of days on either side of the timetable shown above to ensure you are on-island for this natural phenomenon.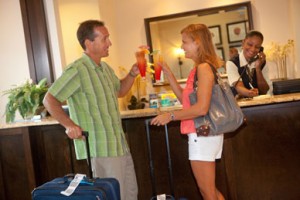 For more information:
www.tripadvisor.ca/ShowUserReviews-g147399-d1404058-r177026214-Sun_Charters-Providenciales_Turks_and_Caicos.html#REVIEWS
www.tripadvisor.ca/ShowUserReviews-g147399-d1070901-r165550220-Silver_Deep-Providenciales_Turks_and_Caicos.html#REVIEWS
www.turksandcaicostourism.com/news–ResourceID–6916.html
www.silverdeep.com/fishing/Glow%20Worms.htm
www.wherewhenhow.com/turks-caicos-islands-entertainment-sports/excursions-tours/glow-worm-tours.html