The Elusive Bonefish is a Challenge for Even Experienced Anglers
What is bonefishing, or bonefish for that matter?
Bonefish are medium sized game fish found in shallow tropical waters. These fish are known for their elusiveness and fight, and bonefishing is an increasingly popular challenge to sportsfisherman of all abilities.
And these anglers would go so far as to say bonefishing, contrary to the sound of the word, is anything but boring and dull.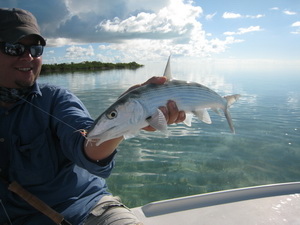 Darin Bain, owner and operator of a DB Tours Bonefishing on Providenciales would be one of those people. His clients would wholeheartedly agree. In fact, international songwriter and musician Jimmy Buffett would be one of those clients. Known far and wide as a salt water fly fishing enthusiast, Buffett has done his fair share of bonefishing. He even draws attention to it in his novel "A Salty Piece of Land" through character Bonefish Bob, the owner of a fly shop who is eager to go bonefishing.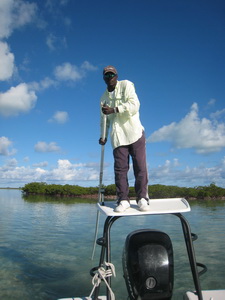 Just like Buffett's character, Darin Bain can hardly wait to do some bonefishing every day. He's been doing it since he was very young. He takes his guests out on a state-of-the art flats/fly fishing boat complete with all the technology tricks like GPS, but Bain already knows where to find the fish.
Paul Smith, a journalist with American Angler magazine, remarked that his fishing experience with Bains was "beyond his wildest expectations."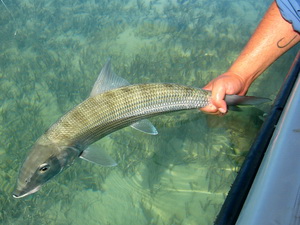 But DB Tours isn't the only bonefishing game in town. Another thriving charter company is Bonefish Unlimited operated by captains Barr Gardiner and Will Vallely. Like Darin Bain, Gardiner was born and raised on Providenciales and has learned his way around bonefish since he was a boy.
Says angling photo journalist Dave Lewis, "Barr is exceptionally skilled in his trade".
Both captains Barr and Will have extensive knowledge and expertise, but they know how to ensure an enjoyable fishing experience for their clients.
"Want a guide who is competent, a great communicator, works hard to see you succeed, and fun to be with?" commented one fishing guest, "then fish with Bonefish Unlimited and Captain Will."
The list of local bonefishing guides would not be complete without one other name: Arthur Dean. Dean owns and operates the fishing guide and diving operation Silver Deep. He got started as a young boy growing up in the Blue Hills area of Providenciales. Dean is a superlative guide and customers quickly discover this.
"After missing quite a few bonefish due to inexperience," said one customer, " Arthur got us right on track and soon we had the reels screaming".
Dean is knowledgeable, experienced and intuitive. Said one visitor, "he has eyes in the back of his head and knows the flats and fish super well."
His passion for bonefishing is obvious. He and Paolo, his wife and business partner even exchanged their vows at one his favourite fishing sites.
You see, people get very romantic about bonefishing. They fall head over heels for it. And whether you are a newbie or an experienced angler, there is no better way to bonefish on Providenciales than with a local guide.
For more information about Bone Fishing in the Turks & Caicos Islands
turksandcaicosbonefishing.com
bonefishunlimitedturksandcaicos.com
silverdeep.com
saltwatersportsman.com/species/fish-species/provo-bones
davelewisfishing.com/memorable-trips-2/turks-caicos-islands
tripadvisor.ca/Attraction_Review-g147399-d1070901-Reviews-Silver_Deep-Providenciales_Turks_and_Caicos.html#REVIEWS
tripadvisor.ca/Attraction_Review-g147399-d3981816-Reviews-Bonefish_Unlimited-Providenciales_Turks_and_Caicos.html