Local Knowledge Key to Finding Best Places to Watch Sunsets
What do you think of when you hear the word sunset? Maybe those old cowboy movies with the hero riding off into one? With that in mind, we've brought along a special guest to add her unique insights about the topic of sunsets.
Meet Cowgirl Katy, your sunset tour guide who's going to tell us where we can experience the best sunset in Providenciales. Giddy up!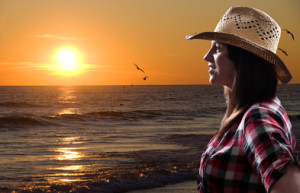 CK: "So pardner, are ye ready to saddle up and ride off into that there sunset? If beautiful sunsets is what ya have a hankerin' fer, well look no further, 'cause Providenciales in the Turks and Caicos Islands is your destination. Darn tootin'. You can mosey on over and lasso that sun, by jiminy!"
VDM: Thanks Cowgirl Katy. You're absolutely right. Like a kid in a candy store, you're spoiled for choice when it comes to places to view a sunset. An ideal choice would be the beach at Taylor Bay which is located on the southwest coast of Providenciales a 20-minute drive from Villa del Mar near Chalk Sound. It is a remote, quiet site boasting clear, shallow water and a wonderful expanse of beach to watch the night sky. The shallow bay means there is very little water traffic, if any at all, so all you have is a pristine white sand beach, shimmering water and one of the best sunsets on Providenciales.
Shared one tourist, "When the skies are clear, the sun sets over the water. One of the nights, we sat in the water to watch the sunset. Very romantic."
CK: "Yes sirree bob, it's purdier than a field of prairie daisies. But maybe you don't want be a lonestar, you'd rather mosey on over to a fandango?"
VDM: You've got a point Cowgirl Katy. Maybe you don't want to be all alone gazing up the night sky. Maybe you prefer to enjoy a brilliant sunset amidst a crowd of people? Then why not visit Somewhere Cafe and Lounge at the Coral Garden Resort on Grace Bay. This spot is said to be "the best place to watch the sunset". It has an open-air design and has two floors, the top viewing deck overlooking the golden sands of Grace Bay Beach.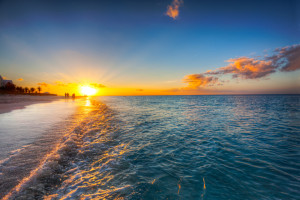 "We sat on the upstairs deck," said one visitor, "just in time to watch the sunset!"
CK:"Now that's jim dandy that view there, but I'll let you in on a scuttlebut partner. Out on the water, now there's a view you can't hold a candle to!"
VDM: What Cowgirl Katy means is one of the best spots by far to witness a sunset is from the sailing ship Atabeyra. Sun Charters, a local charter company, allows visitors to literally sail off into the sunset aboard a 69 foot schooner. The Atabeyra was originally a trading ship which carried commodities like plants, rum and beer and traded between the Turks and Caicos and Hispaniola. Now refitted with lovely finished decks, she carries tourists. It's a unique experience that tourists love, especially the sunset cruise.
"We made a last minute decision to charter the Atabeyra for a sunset cruise," shared one visitor, "I have been on sunset cruises before, but this is the best one by a long shot!'"
The crew of Atabeyra have been sailing her for many years, so they're familiar with the islands. This intimate knowledge gives them the edge when it comes to knowing just where to view the night sky.
"I got some amazing pictures of the sunset," remarked one tourist, "Captain Tibby knew exactly where to take us to get the most amazing views of the sunset. It was a perfect night for it!"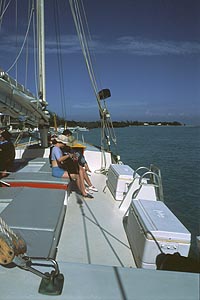 CK: "Real purdy. Atabeyra, for darn certain, she's a fine filly that'll give you a smoother ride than a new saddle on a palomino."
VDM: Thank you Cowgirl Katy for that review. Yes, sailing out on the waters is a memorable and romantic way to experience a Caribbean sunset. You're sure to love basking in the sun during the day on Providenciales, but don't miss the skies in the evening. You can certainly sail off into the sunset and like Cowgirl Katy said, get the chance to lasso a beautiful twilight sky of your very own.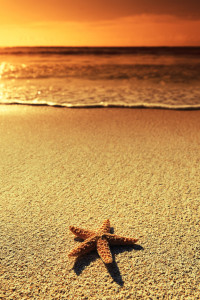 CK: "Yee ha pardners! Get yourself on down to the purdiest sight north, east, west or south of the Rio Grande!"