Provo Ponies: Horse Care and Rehabilitation Project
One act of kindness can change the world. In the case of Provo Ponies, a horseback riding stable located at Long Bay Hills on Providenciales, compassion is the very corner stone of the business.
The story began in 2002 with seven horses from the Dominican Republic who were destined to be part of riding stable but whose owner had greatly underestimated the challenges of feeding, caring and training them in the Turks and Caicos environment. Lack of proper nutrition, abuse and neglect had left the animals in physical jeopardy. Camille and several friends pooled their money and bought the horses. Through a sound nutrition program and with regular exercise the horses gained strength, but it soon became clear that they would have to earn their keep. And Provo Ponies was born.
The addition of Belgians and other mixed draft horses in 2008 was another poignant chapter to the story. The animals had been shipped to the Grand Turks in 2007. The plan was that they would pull carriages of tourists visiting off the cruise ships. But hurricanes in 2008 badly damaged the carriages and company officials returned to the U.S. They left the horses to roam wild. As there are periods of drought and little agriculture on the islands, conditions are poor to support horses in the wild fending for themselves. With reduced food and water and no regular vet or hoof care, the animals suffered greatly. But rescuing the animals was no easy task. The carriage owners argued against any request and claimed ownership. After years of legal negotiation, it was finally settled that the horses would be relocated to Provo Ponies where they have been lovingly cared for by Camille's family and hired hands ever since.
What began as a desire in 2002 to help rescue horses from abuse and neglect has become a thriving tourist business which cherishes the relationship between human and horse. Camille and her staff aren't just "horsing around". They take the time to get to know each horse's personality and unique needs. There is no better example of this dedication than the business website itself. Each horse has its own detailed bio covering history, strengths and personality features. And the horses respond in kind to such devotion. They work hard and want to please the visitors who ride them.
The horses of Provo Ponies are cared for and in turn provide enjoyment and memorable riding experiences for visitors. They like their lot in life now. As Camille comments, "It's like they know I rescued them"1.
To book a horseback ride with Provo Ponies, contact them today. Read the TripAdvisor reviews.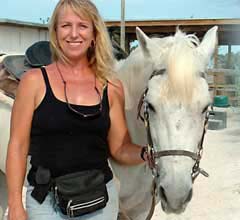 Sourced from:
1TC Weekly
Provo Ponies