Spay, Neuter and Adoption Program Supported by Dedicated Volunteers
Some time ago a wandering mother cat and her kittens became permanent welcome "guests" at the Villa del Mar Resort in the Turks & Caicos Islands thanks to the kindness of the resort management, in particular Alan Lawley and his wife Pam. It's the kind of warm welcoming atmosphere that draws visitors in every year. But there are many stray animals on Providenciales that are not so lucky.
The term potcake can often be heard around the Islands, but it doesn't refer to a specialty dessert. The name is derived from the food residue caked on the bottom of the pots that locals fed to dogs. Potcakes were beginning to become a problem as their numbers continued to increase over the years. By 2000 it had become a problem which drew the attention of both local and national governments. In 2001 government officials turned towards a local animal welfare organization to assist with this critical problem. The Turks and Caicos Society for the Prevention of Cruelty to Animals under the guidance of consultant Dr. Mark Johnson of Global Wildlife Resources put into place a plan of action including public education in all the schools, spay and neuter programs, and animal foster and adoption.
"It is important that we help to control the dog and cat population and direct attention to the welfare of our animals," says TCSPCA executive director Susan Blehr. The very successful program has resulted in over 4,000 surgeries since 2001 which means the avoidance of thousands of unwanted puppies and kittens.
The Turks and Caicos SPCA, the oldest and most established animal welfare group in the islands, hinges on the efforts of its volunteers. They run a low cost spay/neuter clinic where responsible pet owners make appointments for their pets to have surgery. They provide collars, name tags and vaccination certificates for the animals. Volunteers educate the public about pet ownership responsibilities and pet care including heartworm prevention as heartworm disease is the number one killer of adult dogs in the TCI.
Volunteers also organize all fundraising activities such as the annual fundraising beach barbeque. As long-time volunteer Jaliyllah Rosati comments about the events, "it is always well supported and SO much fun". She adds, "we also do our Christmas Shoppe", a family fun event with entertainment for everyone and toys and treats on sale for the four-legged friends in the crowd.
This brings us back to potcakes. A prime example of volunteers in action is Potcake Place, a dog rescue organization located on Providenciales that is run entirely by unpaid staff. Potcake Place provides animal adoption, courier, fostering, and vet assistance.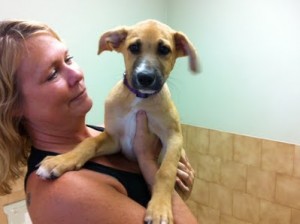 And visitors are catching the spirit. One visitor who adopted a puppy from Potcake Place remarked, "I saw something in those eyes that anyone who has ever rescued a dog will understand; it was a plea for life and an offer of unconditional lifetime love."
A tourist who adopted a potcake puppy shared, "We are spreading the word to all of our family and friends about the potcakes."
The kindness of local volunteers and the response and support of visitors to the islands is making a difference.
Profoundly affected by her volunteer efforts, Jaliyllah says, "doing community outreach and education, helping lost, injured, or needy four-leggeds, and finding safe, loving homes for them just makes ME feel so good." She adds, only half-joking, "AND — then I don't have to take them all home to my house!"
The word is out. Care for these animals and volunteer outreach is beginning to really make a positive impact.
As strong supporters of the TCSPCA, Villa del Mar and Operations Manager Alan Lawley are keen to spread the word about the exceptional efforts of the organization. "It's a positive and worthwhile endeavor, " states Alan. "And it's not just the animals that benefit. Their adopted parents also experience the joy of saving a life and getting a lifelong companion. "
And Alan knows what he's talking about…just like the cats of Villa Del Mar Resort who follow close by wherever he goes, the animals that are cared for by TCSPCA can look forward to a better life.
For more information, to donate, or to adopt a potcake contact: Susan Blehr, Executive Director of the TCSPCA, 649-231-3052 and 649-941-8846 or email tcspca@tciway.tc
————
For more information:
http://dogingtonpost.com/potcakes-of-the-caribbean-a-puppy-rescue-adventure/#.UqobL-KFfbw
http://tcweeklynews.com/caring-for-the-countrys-castoffs-p213.htm
http://www.gofundme.com/petswithoutvets